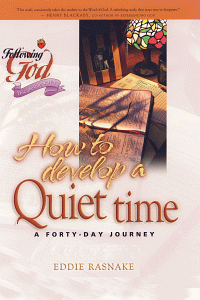 Following God: How to Establish a Quiet Time
A Forty-Day Journey
Highlights
Includes Wordsearch 9!
Part of the Following God Series
160 Pages in Print Form
Product Details
How would you describe your personal devotional time? Is it in a dry spell of religious reading, or is it a refreshing encounter with the presence of God? How to Establish a Quiet Time: A Forty Day Journey isn't about religious ritual or duty. It is all about building a more intimate, enjoyable, and satisfying time with the Lord. It is a forty-day adventure in making your time with God more meaningful and satisfying. Experts tell us over and over that it takes about six weeks to establish a habit—or approximately forty days. On the other side of those days lies a radically different relationship with God. How to Establish a Quiet Time features forty daily devotional readings designed to challenge your thinking and prompt your meeting with God. Each day, you will see truths from Scripture to ponder, guided prayer to help you know what you want to talk to God about, and personal application to facilitate life-change. Each daily encounter is woven into six weekly themes including:
The Principle of Pursuit
The Principle of Adoration
The Principle of Conviction and Confession
The Principle of Thanksgiving
The Principle of Faith
The Principle of Supplication
About the Author
Eddie Rasnake graduated with honors from East Tennessee State University in 1980. He and his wife, Michele, served for nearly seven years on the staff of Campus Crusade for Christ. Eddie then served four years as campus director of the Campus Crusade ministry at the University of Tennessee. In 1989, Eddie left Campus Crusade to join Wayne Barber at Woodland Park Baptist Church as the Associate Pastor of Discipleship and Training. He has been ministering in Eastern Europe in the role of equipping local believers for more than a decade and has published materials in Albanian, Greek, Italian, Romanian, and Russian. Eddie serves on the boards of directors of the Center for Christian Leadership in Tirana, Albania, and the Bible Training Center in Eleuthera, Bahamas. He also serves as chaplain for the Chattanooga Lookouts (Cincinnati Reds AA affiliate) baseball team. Eddie and his wife Michele live in Chattanooga, Tennessee with their four children.
Endorsements
This study consistently takes the student to the Word of God. A refreshing study that stays true to scripture.