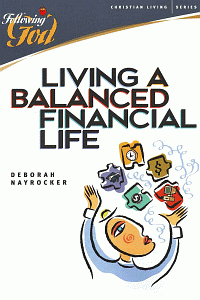 Following God: Living a Balanced Financial Life
Highlights
Part of the Following God Series
224 Pages in Print Form
Product Details
Why do some people go through life with essentially few money worries, while others have endless financial struggles? How do God's commands protect us from indebtedness and lead us to a life of success? Is God's Word relevant to how I use my resources and spend my money? How can being faithful to God help me become a better money manager?
Author Deborah Nayrocker provides answers to these questions in the Following God series release: Living a Balanced Financial Life. Each lesson of this twelve-week study looks at financial stewardship from a biblical perspective, as the reader studies the parables of Jesus, stories of the Old and New Testaments, and Scripture passages relating to each topic. The first lesson sets the stage as readers are reminded that God is the ultimate owner of everything and that our success comes from Him. The following lessons examine deeper issues of why we make our lifestyle choices and offers new perspectives on being content without living a life of consumerism. Throughout the study, readers will gain an understanding of biblical principles on handling money and possessions, including borrowing and saving and working on a debt repayment plan. The final lesson focuses on recognizing the awesome riches that are already ours as believers. Readers will gain a new understanding of how choosing to obey and trust God leads to a life of peace and contentment.
Sample Table of Contents:
Week 1: God Owns Everything: He Is Master of All
Week 2: We are God's Stewards: He Wants Us to Be Faithful Managers
Week 3: God's Commands Protect Us from Indebtedness
Week 4: Virtues That Help Keep Debt at Bay
Week 5: Principles for Learning God's Will in My Life
Week 6: Evaluating our Life Goals: Desiring to Please God
Week 7: Faithfulness in Handling our Money
Week 8: Getting our Finances in Order with a Spending Plan
Week 9: Borrowing and Credit: Understanding Biblical Principles
Week 10: Saving and Planning for Future Needs
Week 11: Being Content with God's Provision
Week 12: Exploring Our Riches as Believers: Recognizing God's Blessings
About the Authors
Deborah Nayrocker is the author of the award-winning book, The Art of Debt-Free Living: Living Large on Less than You Earn. A graduate of Bethel College in Indiana, Deborah also holds a master's degree in education from Indiana University and writes from the perspective of having little or no debt for years. Her articles on personal finance, Christian living, and personal goal attainment have been published in Campus Life, Vista, More to Life, Living the Solution, and other publications. She and her husband make their home in northern Indiana, and they have two adult children.
Endorsements
This study consistently takes the student to the Word of God. A refreshing study that stays true to scripture.