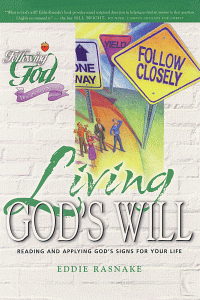 Following God: Living God's Will
Reading and Applying God's Signs for Your Life
Highlights
Part of the Following God Series
208 Pages in Print Form
Product Details
Where are you in your search for God's will? Have you ever asked yourself if you really have surrendered your life to Jesus as Lord and yielded yourself to Him? Are you willing to do God's will in this situation no matter what it is? Are you willing to do something that is beneath you? Does the idea of following God's will, instead of just finding it, meet you where you are?
In the pages of this Following God study on God's Will you'll discover:
What God's Will Is Like
Why God's Will Is a Process
Why We Need God's Will
The Promise of God's Will
And Much More…
Observation, interpretation, and application are part of communication on any level. If these steps for seeking God's will sound like the process of Bible study, it isn't by accident. The Bible is God's recorded will, and--equally important to our process--it is God's communication to us.
The theme of Living God's Will is one that emphasizes the importance of building a relationship with God, living the life totally surrendered to His leading. In these pages you will learn how to connect with God in his communication process, how to interpret what He says, and, through practical application questions, how to evaluate your situation and act on God's will.
About the Author
Eddie Rasnake graduated with honors from East Tennessee State University in 1980. He and his wife, Michele, served for nearly seven years on the staff of Campus Crusade for Christ. Eddie then served four years as campus director of the Campus Crusade ministry at the University of Tennessee. In 1989, Eddie left Campus Crusade to join Wayne Barber at Woodland Park Baptist Church as the Associate Pastor of Discipleship and Training. He has been ministering in Eastern Europe in the role of equipping local believers for more than a decade and has published materials in Albanian, Greek, Italian, Romanian, and Russian. Eddie serves on the boards of directors of the Center for Christian Leadership in Tirana, Albania, and the Bible Training Center in Eleuthera, Bahamas. He also serves as chaplain for the Chattanooga Lookouts (Cincinnati Reds AA affiliate) baseball team. Eddie and his wife Michele live in Chattanooga, Tennessee with their four children.
Endorsements
This study consistently takes the student to the Word of God. A refreshing study that stays true to scripture.