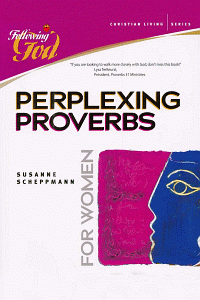 Perplexing Proverbs
A Study for Women
Highlights
Part of the Following God Series
Product Details
Today's women struggle with making life-altering decisions. Many feel lost in the craziness of this world and search for direction. Thorny issues range from finances to friendships, contentment to mothering, emotions to sex appeal. Sadly, many women fail to consult the resource of true wisdom sitting on their own bookshelves or nightstands. The Bible, specifically the Book of Proverbs, holds the answers to the questions of life. Women need to recognize this resource and learn how to apply the lessons it teaches.
Perplexing Proverbs is a ten-week study that applies the wisdom of the Proverbs to ten primary concerns (heart-prints) in a woman's life. It uses both Old and New Testament passages to cement the concepts of the Proverbs and to help women gain wisdom in day-to-day living. Following the basic Following God Bible study format, each day's reading takes approximately 20-30 minutes to complete and allows space for personal journaling. Ideal for small-group or individual study.
About the Author

Susanne Scheppmann holds a Bachelor of Arts in Christian Studies and a Bachelor of Arts in Interpersonal Communication. In addition she served in her local church as the Director of Women's Ministries for four years. She speaks and writes with Proverbs 31 Ministries whose mission is to "Bring God's Peace, Purpose, and Perspective to Today's Busy Woman". Susanne has been published in several magazines. Most recently: Fullfill: Live Out Your Influence, Journey, Standard Publication Devotions, Pray!, Today's Christian Woman and Just Between Us. She has a passion for writing and a love for speaking. Susanne spends her time traveling coast-to-coast speaking at women's events, retreats, and conferences.
Endorsements
This study consistently takes the student to the Word of God. A refreshing study that stays true to scripture.