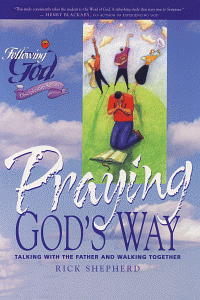 Following God: Praying God's Way
Highlights
Part of the Following God Series
256 Pages in Print Form
Product Details
Ever have trouble talking to God? Perhaps everyone has felt some degree of fear and trepidation at the thought of talking with a perfect and almighty God. Though we should come before God's throne with awe-inspired reverence, we should always remember that God wants to hear from us; He wants us to talk to Him. It is when we talk to the Lord through prayer that we experience the closeness and personal touches of an ever-living and compassionate Father.
Sadly, few people really know how to talk with God, even though God Himself, through the Person of Jesus Christ, teaches us how to pray in His Word. Following God: Praying God's Way is a twelve-week study that expounds on biblical teaching as to how we should pray. The study addresses issues that are hindrances to our communication with God, such as lack of sincerity, pride, selfishness, etc. In the author's view, all hindrances to effective prayer are rooted to one core problem—sin. By reading this study, you will be better equipped to leap over the obstacles of sin and communicate with God in a way that is pleasing to Him.
About the Author
Richard L. Shepherd has been engaged in some form of ministry for more than twenty years, focusing on areas of teaching, discipleship, and prayer. He has served in churches in Alabama, Florida, Texas, and Tennessee and now serves as Director of Prayer and Spiritual Awakening with the Florida Baptist Convention. The Lord's ministry has taken him to several countries, where he has been involved in training pastors, church leaders, and congregations. Rick has also lectured on college and seminary campuses. He graduated with honors from the University of Mobile and holds a Master of Divinity and a Ph.D. from Southwestern Baptist Theological Seminary in Fort Worth, Texas. He and his wife Linda Gail have four children and make their home in Jacksonville, Florida.
Endorsements
This study consistently takes the student to the Word of God. A refreshing study that stays true to scripture.