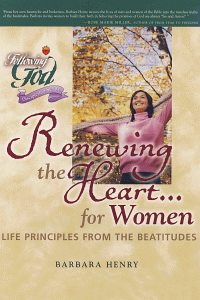 Following God - Renewing the Heart for Women
Life Principles from the Beatitudes
Highlights
Part of the Following God Series
224 Pages in Print Form
Product Details
The Beatitudes outline Christ's prescription for joy and blessing both in this life and in the life to come. Our misery is a result of sin, but a careful study of the Beatitudes reveals a roadmap for the journey to freedom from the sins that make us so miserable. The purpose of Renewing the Heart is to encourage women to study the Word of God and to discover the freedom from sin that can be obtained only through the work of Christ. The study contains all the regular features found in the Following God Series, including thought-provoking study questions and sidebar extras. Each lesson focuses on five Bible characters and how they exemplify the principles found in the Beatitudes.
About the Author Barbara Henry received her B.A. in Education from Covenant College and her M.A. in Biblical Counseling from Colorado Christian University. She has been involved in women's ministries for over thirty years-leading and writing Bible studies for the local church and spiritual direction for individuals. Her passion for equipping others for ministry makes her a popular speaker in churches across America.
Endorsements
This study consistently takes the student to the Word of God. A refreshing study that stays true to scripture.