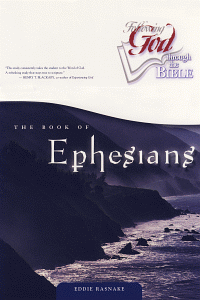 Following God Through the Bible: The Book of Ephesians
A Verse-by-Verse Bible Study
Highlights
Part of the Following God Series
192 Pages in Print Form
Product Details
"How can the contents of a letter written nearly two thousand years ago have anything to do with me?" some might ask. The truth is that Paul's letter to the church members of the region now known as Turkey is just as relevant today as the day it was written. Its message is needed just as much, and its impact has not faded over the generations. In the words of author Eddie Rasnake, "If you lived in a persecuted country and [Ephesians] was the only part of the Bible you possessed, you would still be immeasurably rich and equipped to walk with God in victory!" The impact this letter has had upon Eddie prompted him to write The Book of Ephesians, a twelve week interactive Bible study that covers every single verse of Paul's epistle.
Each week's lesson digs deeply into this treasure trove of spiritual jewels called "Ephesians." As you walk verse by verse through its chapters and become intimately acquainted with all its wealth, you will learn how a mystery that had been hidden for ages (the plan and purpose for God's universal church) was at long last revealed to the apostle Paul and to the church members of Ephesus and beyond. You will begin to understand how this relatively obscure letter to a now defunct church is one of the greatest revelations of truth that God has ever given to man. You will see how the ageless message of Ephesians should be lived out today.
About the Author
Eddie Rasnake graduated with honors from East Tennessee State University in 1980. He and his wife, Michele, served for nearly seven years on the staff of Campus Crusade for Christ. Eddie then served four years as campus director of the Campus Crusade ministry at the University of Tennessee. In 1989, Eddie left Campus Crusade to join Wayne Barber at Woodland Park Baptist Church as the Associate Pastor of Discipleship and Training. He has been ministering in Eastern Europe in the role of equipping local believers for more than a decade and has published materials in Albanian, Greek, Italian, Romanian, and Russian. Eddie serves on the boards of directors of the Center for Christian Leadership in Tirana, Albania, and the Bible Training Center in Eleuthera, Bahamas. He also serves as chaplain for the Chattanooga Lookouts (Cincinnati Reds AA affiliate) baseball team. Eddie and his wife Michele live in Chattanooga, Tennessee with their four children.
Endorsements
This study consistently takes the student to the Word of God. A refreshing study that stays true to scripture.