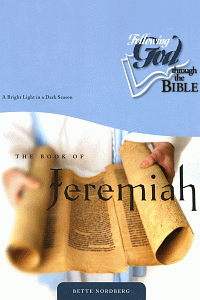 Following God Through the Bible - The Book of Jeremiah
A Verse-by-Verse Bible Study
Highlights
Part of the Following God Series
160 Pages in Print Form
Product Details
Bette Nordberg knows how to bring the Bible to life. In this Old Testament study, Bette asks students first to observe the text of Jeremiah, then to understand the text and finally to apply the Biblical passage. Using this three-part technique, any student—regardless of prior Biblical experience—can mine valuable gems from Jeremiah's account. After establishing the historical setting of the book, students begin with Jeremiah's call to ministry. Then, working with ever-larger sections of scripture, students will complete the entire fifty-two chapters in eight weeks. Nearly every page of this study is enhanced by historical, contemporary, and archeological sidebars—the familiar Following God Series features that thousands have come to love. Students will learn about siege warfare, water management, and the Babylonian Dynasty while wrestling with challenging applications for modern believers. These applications include topics such as: God's definition of success, the cost of serving God, the danger of disobedience, and God's faithful care of those who love him. In the final lesson, students will use other scriptures to see how God keeps his word through Jeremiah.
About the Author
Bette Nordberg grew up in Oak Harbor, Washington – the only girl in a family of six. She spent her college summers working on the Washington State Ferry System. Bette has been writing stories since she could hold a pencil. At the University of Washington, she studied Physical Therapy, but her English Professor told her it was a mistake. "You should be a writer," he said. Ignoring him, she got her degree in Physical Therapy in 1977.
It took a lot of years. But eventually, Chronic Fatigue Syndrome, and the persistent prompting of the Holy Spirit drove her from work in the hospital to quieter work behind a keyboard. Since 1990, she has been published in periodicals, in drama venues, devotions, and books—both fiction and non-fiction. Her fiction projects include the award-winning Serenity Bay and Thin Air. Non Fiction projects include Encouraging Words for the First Hundred Days.
In 1991, Bette and her husband had the privilege of being part of a planting team for Lighthouse Christian Center, a CMandA church in Puyallup. For years Bette wrote and directed sermon prompters for their drama team. Now she teaches several Christian Growth classes.
Endorsements
This study consistently takes the student to the Word of God. A refreshing study that stays true to scripture.