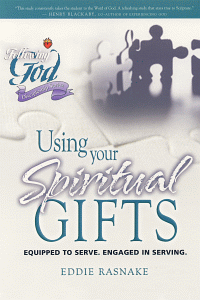 Following God: Using Your Spiritual Gifts
Equipped to Serve-Engaged in Serving
Highlights
Part of the Following God Series
224 Pages in Print Form
Product Details
Scripture teaches that as Christians, we all have spiritually-endowed abilities over which God calls us to be stewards. The Bible refers to these special abilities as "spiritual gifts." In 1 Peter 4:10 we are told: "As each one has received a special gift, employ it serving one another, as good stewards of the manifold grace of God." The fact that every Christian has at least one gift emphasizes each individual's importance in God's kingdom work.
Sadly though, most Christians don't even know what gifts they possess, much less how to use them. In recent years, several excellent studies have been produced to help Christians identify their spiritual gifts. Noted Following God author Eddie Rasnake now offers a unique look at this subject in the form of a twelve-week study that is ideal for small group discussions. Spiritual Gifts: Equipped to Serve—Engaged in Serving is a probing study that will challenge readers to examine their spiritual health. The foundation of the study is built on the premise that all Christians are to be fruitful and productive in their walk with God. Part of being fruitful comes by knowing how to bear fruit—the fruits of the Spirit. As readers understand what it means to be fruitful in ministry, they will be better prepared to study what spiritual gifts are and how God wants those gifts to be used.
About the Author
Eddie Rasnake graduated with honors from East Tennessee State University in 1980. He and his wife, Michele, served for nearly seven years on the staff of Campus Crusade for Christ. Eddie then served four years as campus director of the Campus Crusade ministry at the University of Tennessee. In 1989, Eddie left Campus Crusade to join Wayne Barber at Woodland Park Baptist Church as the Associate Pastor of Discipleship and Training. He has been ministering in Eastern Europe in the role of equipping local believers for more than a decade and has published materials in Albanian, Greek, Italian, Romanian, and Russian. Eddie serves on the boards of directors of the Center for Christian Leadership in Tirana, Albania, and the Bible Training Center in Eleuthera, Bahamas. He also serves as chaplain for the Chattanooga Lookouts (Cincinnati Reds AA affiliate) baseball team. Eddie and his wife Michele live in Chattanooga, Tennessee with their four children.
Endorsements
This study consistently takes the student to the Word of God. A refreshing study that stays true to scripture.