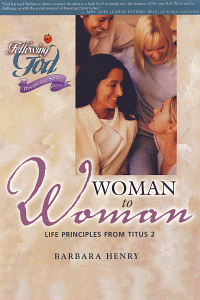 Following God - Woman to Woman Bible Study
Life Principles from Titus 2
Highlights
Part of the Following God Series
224 Pages in Print Form
Product Details
Woman to Woman takes the outline given in Titus 2:3–5 and searches Scripture to find specific direction and content for a guide to discipleship for women. The purpose of the book is to provide a resource for women who desire to minister to others. It is designed to encourage and equip women to speak truth to those who are younger; breaking through barriers in order to deal with difficult questions women face in the 21st century. Rather than offering another set of answers from one woman's perspective, this study takes each woman to passages of Scripture, helping her discover what God is saying to her personally, without skirting the deeper issues. Although the study is ideal for group discussions, it can easily be adapted to individual study use or one-on-one mentoring. The first four chapters look at the four qualifications for women in ministry: a priestly lifestyle, a commitment to confidentiality, freedom from addictions and an appreciation for beauty and the ability to teach it. Younger women may take this study to learn what they are to seek in an older woman mentor and be better prepared to minister to others. Each of the remaining chapters takes one of the topics Paul identifies as important for women and seeks to develop a biblical foundation for understanding and training. Topics include guidelines for loving husbands and children, developing sound minds and pure hearts, and becoming keepers of the home.
About the Author
Barbara Henry received her B.A. in Education from Covenant College and her M.A. in Biblical Counseling from Colorado Christian University. She has been involved in women's ministries for over thirty years-leading and writing Bible studies for the local church and spiritual direction for individuals. Her passion for equipping others for ministry makes her a popular speaker in churches across America.
Endorsements
This study consistently takes the student to the Word of God. A refreshing study that stays true to scripture.