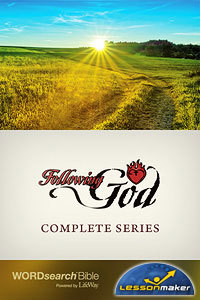 Following God Complete Series
24 Volume Bundle
Highlights
Includes all 24 Volumes Currently Available
Product Details
The theme Following God was born out of a heart desire of several men to understand the true enabling of God in the believer's life. The life God has intended for the Christian is one of closeness, obedience and surrender. These Bible studies are designed to bring you into a closer walk with God as your Father and your Friend. Includes these titles from the Following God series:
Following Christ
Kings of the Old Testament
New Testament Men of Faith
Life Principles from the Old Testament
Prophets of the Old Testament
Women of the Bible, Book One
Women of the Bible, Book Two
The Book of Ephesians
Woman to Woman Bible Study
Using Your Spiritual Gifts
The Ten Commandments
Renewing the Heart for Women
Praying God's Way
Perplexing Proverbs for Women
An Overview of the New Testament
Making Disciples in Your Community
Living God's Will
Living a Balanced Financial Life
Life Principles for Worship from the Tabernacle
First Steps for the New Christian
How to Establish a Quiet Time
The Book of Romans
Enhancing Your Marriage
The Book of Jeremiah
Endorsements
A wonderful resource for those who are serious about Bible Study
This study consistently takes the student to the Word of God. A refreshing study that stays true to scripture.
If you long to understand how God dynamically works in the lives of people like you and me, Following God will be food for your soul.
Products Included In This Bundle