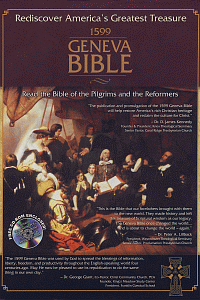 Highlights
The Bible the Pilgrim's used
A revision of the Great Bible
Word-for-word accuracy with the 1599 Geneva Bible
Modern spelling
Includes Bible text and original study notes by Reformers
Old English Glossary
Product Details
In 1553 with the rise of Queen Mary Tudor, over 800 English scholars fled from England to the European continent. A number of them gathered to John Calvin in Geneva and began working on the first complete English Bible to be translated from the original languages. William Whittingham, Calvin's brother-in-law, led this group to use the best collection of Greek and Hebrew manuscripts available at the time. For the first time ever, an English Bible was produced by a committee and not an individual, included annotations to aid in understanding, had chapter and verse numbers for easy reference, was printed in a type that was easy to read, and was made available at an affordable price for most families. As a result, after Queen Elizabeth's rise to power in England, the Geneva Bible was enthusiastically received and went on to be the force of change in England and many other European countries. In fact, a law was passed by the Scottish parliament requiring every household at a certain level of income to have a Geneva Bible in their home. In addition, it is understood that the Geneva Bible was the translation which accompanied the Pilgrims on their journey across the Atlantic and to the Americas.
After King James I succeeded Queen Elizabeth, he commissioned the undertaking of the King James Version of the Bible to replace the Geneva Bible. He did this due to the Calvinistic leanings of the Geneva Bible and the marginal notes on political passages, which he disagreed with. Additionally, during this time frame, Protestants were still experiencing persecution from Rome, and the Geneva Bible was outspokenly anti-Catholic. As a result, the Geneva Bible was replaced with the King James Version of the Bible in places beyond England and is oftentimes referred to as the Forgotten Translation.
Endorsements
The publication and promulgation of the 1599 Geneva Bible will help restore America's rich Christian heritage and reclaim the culture for Christ.