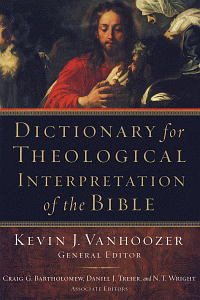 Dictionary for Theological Interpretation of the Bible
Highlights
Christianity Today 2006 Book Award Winner
Catholic Press Association 2006 Book Award Winner
ECPA 2006 Christian Book of the Year Award Winner
Product Details
Today's biblical interpreter, whether scholar, student, or pastor, is faced with a plethora of philosophies and methods for interpreting Scripture. Postmodern trends have emphasized one's community identity in shaping interpretation, leading to differing conclusions. In addition, modern biblical interpretation has too often been characterized by a schism between the disciplines of exegesis and theology.
The Dictionary for Theological Interpretation of the Bible is a groundbreaking reference tool that seeks first of all to marry the tasks of exegesis and theology with the goal of theological interpretation of Scripture—that is, interpretation that has recovered a focus on the subject matter of Scripture: the nature and activity of God and the gospel. Second, it aims to provide a guide to understanding various interpretative approaches and a tool for evaluating them in light of this goal.
The dictionary covers a wide range of topics related to biblical interpretation with both depth and clarity. Topics include the theological interpretation of individual books of the Bible, issues of hermeneutics, various biblical interpreters and interpretative communities, and the interplay of interpretation with various doctrines and doctrinal themes. The contributors represent a diverse range of theological backgrounds and interpretative approaches and are experts in their respective fields.
About the Editor
Kevin J. Vanhoozer (PhD, University of Cambridge) is research professor of systematic theology at Trinity Evangelical Divinity School in Deerfield, Illinois. He is the author or editor of many books, including Everyday Theology, Is There a Meaning in This Text?, and the award-winning Dictionary for Theological Interpretation of the Bible.
Endorsements
This dictionary will be an exceedingly useful addition to the library of every Christian, professional and lay, who wants to learn skills for reading the Bible more insightfully. Scholarly yet accessible, historically grounded yet forming us for the future, broadly global in perspective yet enabling readers to see the theological implications of biblical books and study methods for their own lives and their communities, the articles gathered here equip us all to know the triune God more thoroughly and to offer Christian alternatives to our world more gracefully and purposefully. This is an outstanding resource presented by many of my favorite teachers.