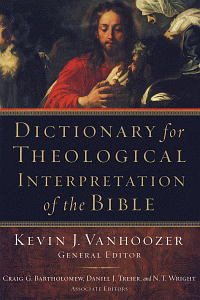 Dictionary for Theological Interpretation of the Bible
Highlights
Christianity Today 2006 Book Award Winner
Catholic Press Association 2006 Book Award Winner
ECPA 2006 Christian Book of the Year Award Winner
Product Details
Today's biblical interpreter, whether scholar, student, or pastor, is faced with a plethora of philosophies and methods for interpreting Scripture. Postmodern trends have emphasized one's community identity in shaping interpretation, leading to differing conclusions. In addition, modern biblical interpretation has too often been characterized by a schism between the disciplines of exegesis and theology.
The Dictionary for Theological Interpretation of the Bible is a groundbreaking reference tool that seeks first of all to marry the tasks of exegesis and theology with the goal of theological interpretation of Scripture—that is, interpretation that has recovered a focus on the subject matter of Scripture: the nature and activity of God and the gospel. Second, it aims to provide a guide to understanding various interpretative approaches and a tool for evaluating them in light of this goal.
The dictionary covers a wide range of topics related to biblical interpretation with both depth and clarity. Topics include the theological interpretation of individual books of the Bible, issues of hermeneutics, various biblical interpreters and interpretative communities, and the interplay of interpretation with various doctrines and doctrinal themes. The contributors represent a diverse range of theological backgrounds and interpretative approaches and are experts in their respective fields.
About the Editor
Kevin J. Vanhoozer (PhD, University of Cambridge) is research professor of systematic theology at Trinity Evangelical Divinity School in Deerfield, Illinois. He is the author or editor of many books, including Everyday Theology, Is There a Meaning in This Text?, and the award-winning Dictionary for Theological Interpretation of the Bible.
Endorsements
This dictionary will be an exceedingly useful addition to the library of every Christian, professional and lay, who wants to learn skills for reading the Bible more insightfully. Scholarly yet accessible, historically grounded yet forming us for the future, broadly global in perspective yet enabling readers to see the theological implications of biblical books and study methods for their own lives and their communities, the articles gathered here equip us all to know the triune God more thoroughly and to offer Christian alternatives to our world more gracefully and purposefully. This is an outstanding resource presented by many of my favorite teachers.
This dictionary is a must for all who read the Bible theologically. The editors and contributors consider theological interpretation as an inherently dynamic enterprise that reaps the fruits of other hermeneutical models.
Not just another Bible dictionary, this rich collection of essays takes up significant biblical topics and books, in every case probing the theological significance of the material. It also addresses leading figures in the theological interpretation of Scripture (e.g., Luther and Barth) as well as major matters of hermeneutics, such as meaning, method, cultural interpretation, and speech-act theory. The substance of the dictionary is such that the reader will learn about the issues that each topic has raised, but that occurs as each article develops a theological appropriation of the subject matter. Original thinking is joined with a concern to make the reader aware of all that is necessary to think about the topic at hand. I expect it to be among the most useful reference works available for those who seek always to hold together the biblical and the theological.
Students suffer from being trapped between the unremitting advocates of historical-critical methodologies on the one side and those who favor the endlessly deconstructing postmodern methodologies on the other side. It has become clear to many that the only way forward to the healthy use of Scripture will depend in great measure on the retrieval of robust theological interpretation. This dictionary is a wonderful resource for helping students, pastors, theologians, and even biblical scholars take that first important step.
A landmark volume for the church's engagement with Scripture. It will be a basic resource on the role and use of the Bible.
The essays are directed not to specialists or scholars in the fields touched on by the various topics, though such folk would find many of the articles fascinating. Nor do the articles go into the detail that critical scholars or specialists would require. Rather, the intended audience appears to be seminarians, clergy, and educated laypersons who seek detailed but not technical introductions to the topics. In addition, scholars would find articles outside their area of specialization to be of value as introductions to the topics. . . . The articles are of a good length and tersely written so as to impart a sufficient amount of basic information without becoming too scholarly or detailed. The articles often present various sides of an issue in neutral fashion, so as not to betray the author's own personal opinion. Many of the articles hint at a preference for more conservative positions, but not in a polemical fashion. In this way, many of the articles provide a nice, quick summary of liberal or critical scholarly theories on many topics without passing judgment on them. I found this to be a strength of the volume. . . . Conservative Protestants will find this resource very meaningful and very useful. Critical scholars also will find a number of articles to be of value. . . . The frequent objective presentation of issues will make this a worthwhile tool for a wide range of biblical scholars and biblical theologians.
Single-volume reference works are always ambitious undertakings, and this dictionary providing a unique treasury of resources, is more ambitious than most. The editors have compiled an impressive roster of contributors who represent a wide range of conservative (but not narrowly so) British and North American scholars. . . . This work offers a wide range of articles on contemporary approaches to biblical interpretation and postmodern philosophical trends. It deserves to be a first-stop reference for evangelical scholars seeking to engage contemporary biblical scholarship.
There is much that is highly commendable about [Dictionary for Theological Interpretation of the Bible]. . . . This volume is a worthy addition to anyone's library. Indeed, one would be hard-pressed to find a better one-volume biblical or theological dictionary to have on hand. As a testament to the flowering of the theological interpretation of Scripture, its appearance represents a noteworthy milestone in a much-needed movement that is as fresh as it is full of promise.
The dictionary follows a pattern established by several recent works of having longer essays on key issues, and then using extensive cross-referencing to help the reader find the information he or she needs within the context of these larger articles. This avoids thousands of small, trivial articles on every possible topic, and yields a more satisfying result (a few shy of 300 essays). Each article has a useful, up-to-date bibliography of additional sources. . . . [This volume] is a monumental contribution to current needs. . . . It is a reference volume that will serve both the preacher and the scholar, and deserves a place on the shelf of both.
One of the most useful and well-conceived new reference works for biblical studies. . . . It has an excellent Scripture index and a list of articles by category and a very helpful 'Topical Index.' The articles are generally longer and more detailed than in most reference works and the bibliography for each article is extensive. The generous uses of 'See' and 'See Also' notations are a great aid. . . . This work has many excellent articles. . . . A welcome addition to the world of biblical and theological reference. In a realm where biblical study and theological study are often done in isolation from each other or in simplistic proof-texting, this work will prove to be a valuable resource. This reviewer recommends it highly.
The entries in this dictionary are arranged alphabetically, making it easy to use. They are written by an impressive cast of Western scholars, resulting in an excellent introduction to the best of Christian scholarship. The essays treat the books of the Bible and a variety of themes, making this a valuable resource on hermeneutical issues. Extensive bibliographic entries and topical and scriptural indexes make this a user-friendly source. The articles are consistent in quality. . . . This dictionary makes an important contribution by discussing the diversity of methodological approaches, the major issues involved in pursuing the meaning of the Bible, and the practical implications of these questions. Pastors, theologians, teachers, students, and others . . . will find this a valuable addition to their library.