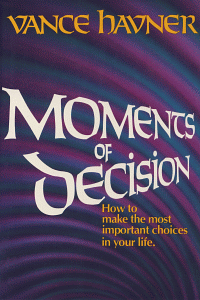 Moments of Decision
How to Make the Most Important Choices in Your Life
Product Details
Throughout our lifetimes we are continually compelled to make important decisions. To choose life partners, vocations, life-styles, churches, and even friends, we often seek the advice of others. Beloved preacher Vance Havner bids us look to the wisest counsel of all - the Bible.
In Moments of Decision, Havner presents sixteen revealing examples of choices, both good and bad, made in Scriptures. He relates them practically and succinctly to the life-changing decisions that must be made today. With tremendous insight he shows how Lot's decision to live in Sodom lends advice for choosing apart from the corrupt influences of wealth...how Elijah's choice to challenge the prophets of Baal gives valuable direction for our choosing to stand against false gospels of today...how Daniel's courageous decision against Nebuchadnezzar urges us to select the Lord's way despite the consequences...how Pilate's decision for Caesar over Christ provides us with the admonition to consider wisely the most important decision of all - to follow or reject Christ.
Whether you are facing momentous times of decision, or considering how you might make wise decisions in your everyday life, you'll find Moments of Decision an inspiring guidebook that applies the valuable lessons of the Bible to decision-making of today. Discover for yourself how to make the most important decisions of your lifetime.
About the Author
Vance Houston Havner was born October 17, 1901, in the Western North Carolina locality of Jugtown. Though his ministry eventually took him to major cities throughout America, Dr. Havner maintained a love for the quiet and simple ways of his more rural past. His academic experience began at Hog Hill, Jugtown's schoolhouse. Later, he attended schools such as South Fork Institution, and Boiling Springs High School, which later became Garner-Webb College. He also attended Catawba College, Wake Forest University, and Moody Bible Institute.
Dr. Havner's first pastorate was at the Salem Baptist Church in Weeksville, North Carolina. While serving at Salem Baptist Church, the first of his 38 books was published, By the Still Waters. In 1934, Havner went to Charleston, SC to serve as pastor of the First Baptist Church. Later, he was called to an itinerant ministry of evangelism and conference speaking, and it was in this capacity that his greatest contributions were made.
His influence extended to a national level, but Dr. Havner's approach was always to minister where God directed, regardless of the size of the church. His appeal and influence transcended denominational lines, and he spoke to many different groups of people. In addition to preaching in many of America's most influential churches, Dr. Havner was a highly sought speaker for conferences at places such as Moody Bible Institute in Chicago. He frequently spoke at both state and national meetings of the Southern Baptist Convention.
In 1973, he was named "Preacher of the Year," by the Billy Graham Evangelistic Association. Protestant leaders from many denominations called Havner, "The Dean of America's Revival Preachers." His unique sense of humor endeared him to many, and Havner could choose the right words to express a truth like no other communicator. He was truly gifted with an ability to phrase a thought in such a way, as to drive home a point with absolute effectiveness. Though Dr. Havner died in 1986, his influence for Christ continues.
Endorsements
I do not know of any man in my generation who has so stirred revival fires in hearts of so many people throughout the nation as has Vance Havner. Whenever I see a book by Vance Havner I immediately purchase it, because I know that I am going to get some good thoughts for my own sermon material.
Vance Havner is one I believe that everyone should read. I doubt that I've preached many messages where I haven't quoted him. His books are hard to find, but worth the search. Wordsearch has all of Havner's books on their computer Bible study program, so no you have no excuse.