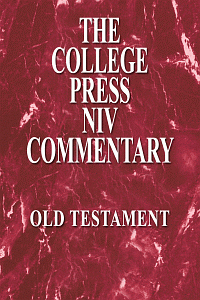 College Press NIV OT Commentary
Highlights
Concise introductions
Includes and expounds on the full length NIV OT text
Product Details
The College Press OT Commentary exemplifies the best of modern scholarship and was written by acknowledged and respected experts in Biblical studies. Each book of the Old Testament is examined, and while the series is designed for the serious student, it is suitable as well for the growing Christian. The commentary features the following:
Biblically sound exegesis
Clear exposition
Objective approach
Concise introductions
Key word translation
Easy-to-use format
Practical footnotes
Fresh style
About the Editors
Terry Briley, Ph.D., has served as professor of Bible at Lipscomb University, Nashville, Tennessee, since 1986 and serves as Dean of the College of Bible and Ministry. Terry Briley received a B.A. from David Lipscomb College (now Lipscomb University), a M.Phil. and a Ph.D. from Hebrew Union College, Cincinnati, Ohio. In addition to teaching at Lipscomb University, he is the Senior Minister at Natchez Trace Church of Christ and leads an annual summer mission trip to Brazil.
Paul J. Kissling, Ph.D., is professor of Old Testament and Biblical Languages and Area Chair in Bible/Theology at Great Lakes Christian College, Lansing, Michigan. He is an elder at Meridian Christian Church in Okemos. Paul Kissling received a Bachelor's degree form Great Lakes Christian College, an M.Div. from Lincoln Christian Seminary, a Th. M. from Trinity Evangelical Divinity School, and a Ph.D. from the University of Sheffield (England). Paul has taught and preached in over 15 countries and serves as an Old Testament specialist on the Board of the Stone-Campbell Journal.