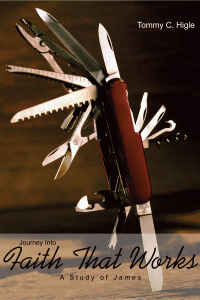 The Journey Bible Series: Journey into a Faith that Works
Highlights
13-Lesson Study on James
Scripture-Synced Sermons
Product Details
In this 13-lesson study of James, you will discover how to deal with many of life's issues, such as problems, temptation, money, prejudice, anger, misuse of the tongue, social injustice, etc.. This epistle is basically a manual on having a "faith that works." Lesson titles include:
The Purpose for Our Problems
Turning Down Temptation
How to Get the Most from the Bible
The Folly of Favoritism
How to Know You Are a Real Christian
Taming Your Tongue
Improving Your Relationships
Praying Powerfully
Conquering Conflict
Shunning the "Sins in Good Standing"
Practicing Patience
How To Manage Your Money Wisely
About the Author
After 47 years of pastoring six churches in Arkansas and Oklahoma, Tommy Higle now focuses on writing and on teaching pastors around the world. His Bible studies, called The Journey Series®, have been used by thousands for churches in all 50 states and at least 25 other countries. More than one and a half million "Journeys" have been sold. Higle is known for clear, simple exposition with practical application.
The Journey Series® is the registered trademark of Tommy Higle Publishers, Inc.