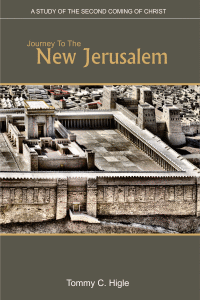 The Journey People and Topical Series: Journey to the New Jerusalem
Highlights
7-Lesson Study of the Second Coming of Christ
Scripture-Synced Sermons
Product Details
This "journey" is a seven-lesson study of the Second Coming of Christ, which culminates in the New Jerusalem. The Second Coming is the most frequently mentioned event in the New Testament. The last recorded words of our Lord are about His Second Coming (Rev. 22:20b). Lesson titles include:
Signs of the Second Coming
The Rapture
The Tribulation Period
The Judgment Seat of Christ
When Christ Returns to Earth
The Great White Throne Judgment
What Will Heaven Be Like?
About The Journey Series®
Author Tommy Higle knows that every Bible study is an adventurous journey. The Journey Series® is a library filled with insight and practical lessons that Higle, a seasoned pastor, spent years writing.
The Journey Series® is written for hungry students of God's Word. Each book is a series of lessons designed to be used for personal study, small groups, or Sunday school. Many pastors say they use The Journey Series® as ready-to-preach sermons. Over 12,000 churches have used this wonderful resource.
About the Author
After 47 years of pastoring six churches in Arkansas and Oklahoma, Tommy Higle now focuses on writing and on teaching pastors around the world. His Bible studies, called The Journey Series®, have been used by thousands for churches in all 50 states and at least 25 other countries. More than one and a half million "Journeys" have been sold. Higle is known for clear, simple exposition with practical application.
The Journey Series® is the registered trademark of Tommy Higle Publishers, Inc.