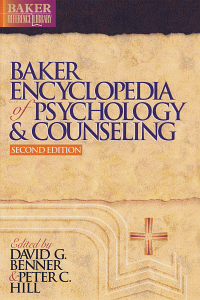 Baker Encyclopedia of Psychology and Counseling
Second Edition
Product Details
The Baker Encyclopedia of Psychology and Counseling was born out of an awareness of the need for a comprehensive treatment of psychology from a Christian point of view. Factually presenting major current findings and theories in the field, it presents psychology in its own terms, while including explicit biblical or theological perspectives that are broadly evangelical. This volume focuses on the areas of personality, psychological problems, psychotherapy and other treatment approaches, major systems and theories of psychology, and the psychology of religion. Implications for pastoral care are noted in many articles, and a large number of new articles exploring issues of particular interest to clergy are contained in this edition. This work derives its strength from the numerous authors writing on their areas of expertise from their individual Christian perspectives.
About the Editors
David G. Benner is emeritus distinguished professor of psychology and spirituality at Richmont Graduate University in Atlanta, Georgia, and an associate fellow at the Centre for Studies in Religion and Society at University of Victoria in British Columbia, Canada. A psychologist, spiritual director and retreat leader, Benner has written and edited many books, including the Counseling and Care of Souls. He is the founding executive editor of the journal Conversations.
Peter C. Hill earned his M.A. and Ph.D. at the University of Houston. Hill is the professor of psychology at Biola University. He has published a number of scholarly articles.
Endorsements
This is a monumental work! It is accurate, well documented, and highly readable, and its biblical perspective gives it special usefulness for Christian therapists. The Baker Encyclopedia of Psychology and Counseling is a necessity for ministers, counselors, and students of the mental health sciences.
A classic has just become better! The substantial content of this new edition will make it an even more useful treasure-house of information for the Christian mental health professional.
In these postmodern days, mental health professionals have suddenly gained interest in the spiritual, but many seem to be ethereal meanderers desperately in need of theological roots. This volume provides counselors, pastors, educators, and students with relevant information solidly rooted in Christian theology and well-established psychological principles. Covering a wide range of topics--from advice giving to ethnic identity--each entry is authored by a respected professional with a Christian worldview. The Baker Encyclopedia of Psychology and Counseling should be the standard desk reference book for Christians working in mental health and pastoral care.
The second edition of The Baker Encyclopedia of Psychology and Counseling is a comprehensive compendium of knowledge about psychology written by noted experts. Coverage is up-to-the-minute. This will be an invaluable reference book for years. I heartily recommend it to practicing mental health professionals, academicians, trainees, and libraries.
Since 1985 The Baker Encyclopedia of Psychology and Counseling has been the single-volume reference for a comprehensive treatment from a Christian perspective. With this second edition the best is now better. David Benner and Peter Hill are pillars of academic integrity (and endurance) in the integration field.
An all-star cast of Christian psychologists offer state-of-the-art synopses of their field's major concepts, theories, and therapies. A valuable resource for any Christian student, scholar, or practitioner of psychology.
The second edition of The Baker Encyclopedia of Psychology and Counseling , written from a Christian perspective, is a great resource and reference work. Editors David Benner and Peter Hill are to be commended for a job well done!