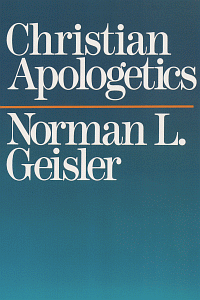 Product Details
From the Preface...
This work on Christian apologetics is in three parts. Part One surveys various tests for truth in order to lay the groundwork for testing the truth of various world views. Part two applies the test for truth to various world views and concludes that theism is the only adequate view. Part Three works within the context of a theistic world view to verify the unique claims of historical Christianity as to the deity of Christ and the authority of the Bible.
About the Author

Norman L. Geisler earned his Ph.D. at Loyola University of Chicago. He is a co-founder and former dean of Southern Evangelical Seminary. Geisler is the author/co-author of some seventy books and hundreds of articles. He has taught theology, philosophy, and apologetics on the college and graduate level for fifty years. He has been a professor at some of the top Seminaries in the United States, including Trinity Evangelical and Dallas Seminary, and has been a guest at numerous other schools. Geisler has spoken in over twenty six countries on six continents. He and his wife Barbara live in the Charlotte, North Carolina area. He maintains an active writing, speaking, and lecturing ministry across the country.
Endorsements
At a time when the Christian church faces an ever-increasing challenge from a secular and pluralistic culture, Dr. Geisler's Christian Apologetics provides a substantive resource for answering the challenge. . . . Christian Apologetics should find a place in the library of all college and seminary students by default. In addition, all others interested in probing the causes and effects of these isms will find the book a challenge but also greatly rewarding.
Dr. Geisler is extremely erudite, possessing an astonishing wealth of scholarly knowledge, and displays a remarkable gift of superb organization and clear analysis in laying out his material...I consider Christian Apologetics the best textbook we have on behalf of conservative evangelical Christianity.
A very thorough and systematic defense of evangelical Christian theism...Overall, Christian Apologetics deserves to become a standard text in Christian apologetics classes.
Destined to be a major textbook for evangelicals in apologetics...[It will] help a generation of readers and students faced with a tough-minded humanism to give cogent and careful defense of the faith.
Provides the reader with a fundamentally sound overall approach to Christian apologetics...It will be a valuable addition to any student's library.