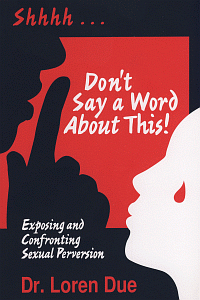 Don't Say a Word about This!
Exposing and Confronting Sexual Perversion
Product Details
SILENCE IS NEVER GOLDEN. IT'S TIME THIS PAINFUL SUBJECT IS EXPOSED!
If you, or someone you love, are part of the countless number of people worldwide whose lives have been adversely affected by sexual abuse, you may have felt hopeless in a world that tries to keep a lid on the reality of the situation. Nevertheless, THERE IS HOPE! Dr. Due addresses the unspoken issues of:
Adultery
Marriage
Rape
Incest
Homosexuality
Sodomy
Prostitution
Sexual Abuse
Dr. Due examines these issues and the healing that can come through the living, powerful Word of God.
About the Author
Dr. Due is a survivor of rape, incest, sexual abuse, and molestation. Through the healing and power of Christ, Dr. Due has been able to forgive those who wronged him and has found the strength to break the cycle of abuse in his own family. His mission is to spread the good news about Jesus and expose and confront anything that holds individuals and families back from truly loving the Lord and one another. Dr. Due holds two doctorate degrees (Doctor of Ministry and Ph.D. in Philosophy), two master's degrees (an MBA and a Master of Arts in Biblical Studies), and a bachelor of science degree in accounting. After entering - and exiting - two unhealthy marriages, Dr. Due is now married to his spiritual soul mate. DON'T SAY A WORD ABOUT THIS opens the opportunity for he and his wife to work together in ministry to bring God's healing, deliverance, and victory to those touched by sexual perversion, sexual abuse, rape, and incest. Dr. Due presently serves as: Member of FICWFM, Director of JOY Christian Center, CFO of JOY Medical Services, Inc., Evangelist and Teacher, and Author. He is the proud husband of Prophetess Arjeana Due, and the father of two loving children: Loren and Teresa, and one grandson, Kai and one granddaughter Makayla.
LOREN C. DUE, Ph.D., wrote DON'T SAY A WORD ABOUT THIS as the result of his extensive research, coupled with years of experience as counselor to both the abused and the abuser and his own personal experience of childhood abuse.
Endorsements
A timely work for all readers, Dr. Due's valuable new work will help both victims and perpetrators of sexual abuse or perversion move from denial to hope.
Don't Say A Word About This written by Dr. Loren C. Due is destined to be a Best Seller, as he uncovers the silent killer known as sexual perversion that has eaten at our nation like ovarian cancer. It is a life changing must read.
This book gives hope of a healthy life to both victims and perpetrators as it sheds the light of truth on the secret sexual issues that affect us all.
This book is honest, insightful and informative - forcing the reader to see the reality of the hard issues of sexual perversions, addictions and abuse, yet offering hope and encouragement.
As believers we are at times called upon to CRY LOUD and SPARE NOT. Dr. Due's book does just that. His efforts to sound the alarm and to offer solutions to the ever growing problem are commendable. I highly recommend this reading to any Christian leader who desires to promote Biblical standards and practice.