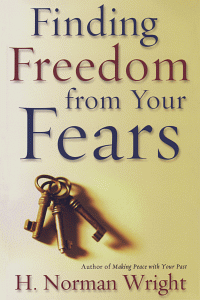 Finding Freedom from Your Fears
Highlights
Millions of people struggle with fear, you are not alone.
Are you anxious on airplanes or in crowds?
Do you worry when you send your children off to school?
Do your fears ever disable you and make you feel out of control?
Product Details
In Finding Freedom from Your Fears, Dr. H. Norman Wright helps you understand your fears and the negative effects they have on your life. He provides proven steps to steer your thoughts and feelings away from fear and toward faith and hope. His practical techniques and exercises for establishing worry-free patterns will release you from fear's hold.
Whether you struggle with physical fears, such as fear of flying, or emotional fears, such as fear of abandonment, Dr. Wright acts as your counselor as he teaches you how to overcome anxiety and find peace.
About the Author
H. Norman Wright is a licensed Marriage, Family and Child Therapist. He was former director of the Graduate Department of Marriage, Family and Child Counseling at Biola University, as well as an associate professor of Christian Education and Director of the Graduate Department of Christian Education at the Talbot School of Theology. He has conducted lectureships at several seminaries, including the North American Baptist Seminary, Asbury Theological Seminary, and Western Conservative Baptist Seminary. He is an adjunct professor in the Doctor of Ministry degree program at Trinity Evangelical Seminary in Deerfield, IL, Western Seminary and at Talbot School of Theology. He has taught graduate school for over thirty years and is now the Director of Christian Marriage Enrichment.
He was in private practice for over thirty years. Dr. Wright is a graduate of Westmont College, Fuller Theological Seminary (M.R.E.), and Pepperdine University (M.A.). He has received two honorary doctorates, D.D. and D.LIT, from the Western Conservative Baptist Seminary and Biola University respectively.
He is currently on the Executive Board for the AACC, the Advisory Board for Family Studies at Pepperdine University, the Advisory Board for the Center for Marriage and Family Studies of John Brown University and Research Professor in Christian education at Talbot School of Theology.
He is the author of over sixty books ­ including: Always Daddy's Girl, The power of a Parent's Words, Quiet Times for Couples, Crisis Counseling, Recovering from the Losses of Life, Marriage Counseling, and the Premarital Counseling Handbook.