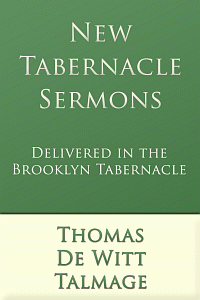 New Tabernacle Sermons
Delivered in the Brooklyn Tabernacle
Product Details
This compilation of 32 sermons offers some unusual themes like: Brawn and Muscle, The Pleiades and the Orion, The Queen's Visit, The Lord's Razor, The Road to the City, The Banished Queen, Despotism of the Needle, and the Congratulations of Heaven.
These sermons set forth evangelical truths in an orderly, vivid and picturesque manner. Talmage presents his expositions into concrete forms and abounds in illustrations and explanations.
About the Author
Thomas De Witt Talmage (1832-1902) was born in New Jersey in 1832. He attended the University of New York, studied law for a brief time, and finally decided to enter the ministry. He studied theology at the New Brunswick Theological Seminary and began preaching in New Jersey and New York in 1856.
In 1869, Talmage accepted an offer to pastor the Central Presbyterian Church in Brooklyn, New York. Once settled in Brooklyn, Talmage conducted sensationalist services and experienced great success. Talmage's sermons eventually became the most popular religious experiences of the era, and, in 1870, a tabernacle was built solely for the purpose of accommodating the large crowds who attended his church services. Seating was free of charge, and, although it had been built specifically to seat large crowds, hundreds were turned away every Sunday.
In December of 1872, the original tabernacle was destroyed in a fire in full view of many on their way to attend Sunday morning church services. At the time, it was regarded as one of the worst fires in Brooklyn's history. Talmage and his congregation then met at the Academy of Music until a newer and larger tabernacle was built in 1874. The newly completed building featured semicircular seating which provided an unobstructed view for those in attendance. Talmage continued to preach there with great success until the second tabernacle was also destroyed in a fire in 1889. The congregation, convinced that there was "a fatality about the location" agreed to move construction of a third tabernacle from Schemerhorn Street to Clinton and Greene Avenues. After this tabernacle was also destroyed in a fire in 1894, a discouraged Talmage announced he would retire from holding a regular pastorate in favor of taking up an evangelist practice.
Talmage later reconsidered this decision and accepted an offer to join the First Presbyterian Church in Washington, D.C., where, from 1895 to 1899, he served as associate pastor. He continued preaching in Washington for another four years until resigning as pastor on March 9, 1880.
Following his service as pastor, Talmage took up editing Christian magazines and journals, including: Christian at Work, Advance, Frank Leslie's Sunday Magazine, and the Christian Herald. In addition to his editorial work, Talmage put to paper his sermons and several other writings; all of which are said to have reached over 25,000,000 readers. WORDsearch is happy to bring these works of Talmage to those who preach and teach to change lives today.
Endorsements
These sermons strikingly exhibit the author's character as a preacher.