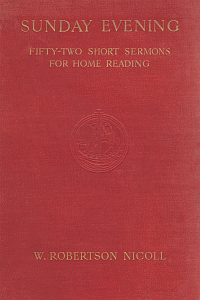 Sunday Evening
Fifty-Two Short Sermons for Home Reading
Product Details
Sunday Evening is a book of fifty-two short sermons by William Robertson Nicoll. Included in this volume are such titles as:
St. Paul's Love for Christ
Neither Left nor Forsaken
I Will Glorify it Again
The Prince of the World Judged
The Cleansing Blood of Christ
Does Today Affect Tomorrow?
Our Lord in Work and Rest
About the Author

Sir William Robertson Nicoll was an ordained minister of the Free Church at Dufftown, Banffshire. In 1886 he moved south to London and began his editorship of The Expositor and the British Weekly, posts which he held for the rest of his life. He made the British Weekly widely influential, published several religious and secular books, was knighted in 1909, and was made a companion of honor (a prestigious order) two years before his death in 1923.
Nicoll was a prolific editor of expository works and left behind a literary legacy that has placed all preachers in his debt. This scholar is rightly remembered for such works as The Expositor's Bible,The Expositor's Dictionary of Texts,The Sermon Bible,and the Expositor's Greek Testament, all of which he edited.