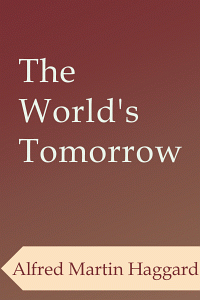 The World's Tomorrow
or the New Millennium and Preceding Disasters
Highlights
Supplement to A Vision of the Ages, B.W. Johnson
Product Details
After long study of the prophetic utterances of the Bible concerning the time of Christ's " Second coming" and the continuance of the millennium, and of the speculations of geologists and astronomers concerning the probable continuance of the earth as a habitable place for man, Dr. Haggard fixes on AD 2135 as the beginning of the " millennium," and thinks its continuance is to be 360,000 years. These calculations are reached by considering a prophetic day to represent a year, and taking as his starting point BC 165, the time when the sanctuary at Jerusalem was made desolate, according to Daniel 13:14. It is not surprising that the author sees much in the present desolating war in Europe to encourage him in his speculations. He looks for a great clearing of the moral and religious atmosphere by this war, and a still greater cleansing by a war likely to occur about 2100 AD. To the objections that Christ represents that his second coming is to occur during the lifetime of his generation, Dr. Haggard presents, very ably and convincingly, the arguments for a typical interpretation of Christ's language, in which the destruction of Jerusalem is a type of the larger and final catastrophe. However one may dissent from the author's interpretations, one cannot fail to be stimulated and interested by them.
About the Author
Alfred Martin Haggard was born near Cedar Rapids, Iowa in 1851. He began preaching in 1876. Haggard received his A.B. degree from Oskalossa College, Iowa in 1879, and A.M. degree in 1889. After graduating he took up his first pastorate in De Soto, Iowa. After three years he was called to Washington, Illinois. In 1884 they moved to Oskaloosa and for most of the next fourteen years Oskaloosa was their home. He took the secretaryship of the Iowa Christian Convention, and then presidency of Oskaloosa College. He was called to Drake University in November, 1898, to assist Dean Everest. In the following year he became dean of the College of the Bible at Drake.
Haggard is widely known as a third-party Prohibitionist. He was a liberal giver to missions and educational interests. He was a conservative, but not a partisan. Haggard died in Pinecliff, Colorado, June 20, 1933.