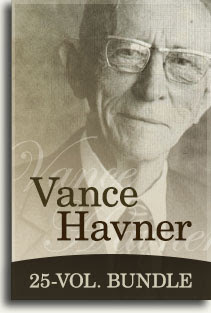 Product Details
Vance Havner was a great preacher and passionate expositor. He was so beloved by leading evangelists and preachers that when he was hospitalized in the 1970s, Billy Graham told him, "You can't go home just yet. We preachers need more sermon material!" Havner recovered, and, sure enough, he delivered on Graham's request.
The Vance Havner Bundle is 25 volumes of his highly valued preaching and teaching helps. It includes 8 sermon books (with over 100 Havner sermons), 5 devotionals, 5 books on Christian Living, and 7 additional Havner volumes on a host of biblical topics.
Wordsearch allows you to search Havner's works by topic or Scripture, making it ideal for helping you with sermon and lesson preparation.
Here's An Example of Havner's Wisdom & Insight:
One of the volumes in this bundle is titled Living in Kingdom Come. In a sermon on Matthew 5:13, where Jesus told His disciples, "You are the salt of the earth," Havner reminds us of how powerfully these words ring in the ears of today's disciples:
"Salt preserves. Civilization has been saved from destruction by the restraining influence of the Holy Spirit in Christians. Salt prevents decay, and restrains corruption. One godly person in a group will restrain evil conversation. In his eyes, a vile person is condemned. God's pinch of salt in the earth has preserved it from total decay.
Salt purifies and cleanses. The best gargle for a sore throat is plain salt water. The church of Jesus Christ has had a purifying influence wherever it has gone. You may think that your community is in a bad state, but take out the church and you would not want to live there. Yet many live as though there were no church there! For all its faults and failures, God's pinch of salt keeps the community from being a cesspool of iniquity completely.
Salt heals. Lives are changed, souls saved, homes rescued from disaster, broken hearts mended, sorrows eased, burdens lifted, sick bodies and minds made well because of the antiseptic and therapeutic power of the Holy Spirit working through God's people, the salt of the earth. Think of the arguments that have been settled, the quarrels, conflicts, and divisions straightened out by the peacemaking power of the Gospel. The world is inflamed and sore with hatred today, and the only balm that can heal these wounds is not legislation and reformation, but the healing power of love in the hearts of Christians.
Salt creates thirst. God's people should develop in the hearts of men a desire to know God. We ought so to live that others would want the peace and joy they see in us. Does anybody want to be a Christian like you? The best argument for Christianity is a Christian."
This is the kind of truth that remains fresh and useful. If you teach, preach, or minister to others, you'll find the Vance Havner Bundle contains an endless supply of wisdom, ideas, and inspiration to help you. Through you, it will help others.
Learn more about each volume and see more samples by clicking on their book cover images below.
About the Author
Vance Houston Havner was born October 17, 1901, in the Western North Carolina locality of Jugtown. Though his ministry eventually took him to major cities throughout America, Dr. Havner maintained a love for the quiet and simple ways of his more rural past. His academic experience began at Hog Hill, Jugtown's schoolhouse. Later, he attended schools such as South Fork Institution, and Boiling Springs High School, which later became Garner-Webb College. He also attended Catawba College, Wake Forest University, and Moody Bible Institute.
Dr. Havner's first pastorate was at the Salem Baptist Church in Weeksville, North Carolina. While serving at Salem Baptist Church, the first of his 38 books was published, By the Still Waters. In 1934, Havner went to Charleston, SC to serve as pastor of the First Baptist Church. Later, he was called to an itinerant ministry of evangelism and conference speaking, and it was in this capacity that his greatest contributions were made.
His influence extended to a national level, but Dr. Havner's approach was always to minister where God directed, regardless of the size of the church. His appeal and influence transcended denominational lines, and he spoke to many different groups of people. In addition to preaching in many of America's most influential churches, Dr. Havner was a highly sought speaker for conferences at places such as Moody Bible Institute in Chicago. He frequently spoke at both state and national meetings of the Southern Baptist Convention.
In 1973, he was named "Preacher of the Year," by the Billy Graham Evangelistic Association. Protestant leaders from many denominations called Havner, "The Dean of America's Revival Preachers." His unique sense of humor endeared him to many, and Havner could choose the right words to express a truth like no other communicator. He was truly gifted with an ability to phrase a thought in such a way, as to drive home a point with absolute effectiveness. Though Dr. Havner died in 1986, his influence for Christ continues.
Endorsements
Vance Havner was the most quotable preacher I have ever heard.
No one has done more to stir the fires of revival than Vance Havner.
Vance Havner was a prophet of righteousness and revival. His diagnosis of the world and church conditions revealed a supernatural discernment that astounded audiences.
Thank you to Wordsearch for making the works of Vance Havner available to a wider audience. Havner was a 20th century prophet whose works have been mostly out of print since his death in 1986. He is an Amos for our time, a prophet that we need in a nation where the Word has been softened to be acceptable. If you've not read or heard of Vance Havner, get these books. They will light a fire in your soul and stir you to be a better believer and leader.
Vance Havner is one I believe that everyone should read. I doubt that I've preached many messages where I haven't quoted him. His books are hard to find, but worth the search. Wordsearch has all of Havner's books on their computer Bible study program, so no you have no excuse.
Products Included In This Bundle