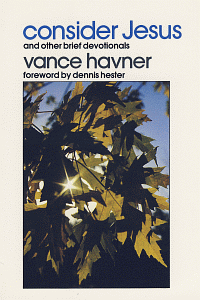 Consider Jesus
And Other Brief Devotionals
Product Details
Vance Havner is delightfully quotable; his writing is filled with sparkling gems for preachers and teachers. But his messages are equally popular as warm and challenging devotional literature. Those included in this book are especially apt for such reading. Each of the meditations is one page long and opens with a Bible text.
About the Author
Vance Havner (1901-1986) began preaching as a young boy and continued in the work over the course of his life. Havner pastored small country churches, preached to large city churches, prepared sermons for countless preachers, and wrote over 35 books. In 1973, the Billy Graham Evangelistic Association named Havner the "Preacher of the Year." Havner's unique sense of humor and his ability to phrase truths with brilliant poignancy make him one of the most endeared preachers of the 20th century.
Endorsements
Vance Havner is one I believe that everyone should read. I doubt that I've preached many messages where I haven't quoted him. His books are hard to find, but worth the search. Wordsearch has all of Havner's books on their computer Bible study program, so no you have no excuse.