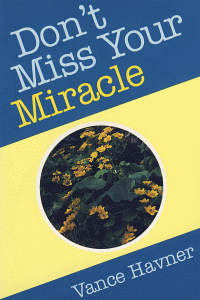 Product Details
These meditations are of the capsule variety, written in the author's eighty-first year. He wrote these to "help harassed and hurried sols when ' Take Time to Be Holy' is an outdated hymn." Vance Havner further challenges:
God has many miraculous things for His people, but so many miss them. I do not know what Jesus had for the rich young ruler, but he missed it...Demas missed his miracle when he deserted Paul. Jonah almost missed his life mission...We live doing what comes naturally and miss what comes supernaturally...Have you missed the miracle God has for you? So many live on crackers and cheese when they have a standing invitation to the banquets of God. But there may still be time for a miracle.
To read these meditations is to take a journey into more authentic Christianity. Readers will not only enjoy these Havner selections but will also ask themselves: What kind of Christian am I? Am I miraculous or make-believe?
About the Author
Vance Havner (1901-1986) began preaching as a young boy and continued in the work over the course of his life. Havner pastored small country churches, preached to large city churches, prepared sermons for countless preachers, and wrote over 35 books. In 1973, the Billy Graham Evangelistic Association named Havner the "Preacher of the Year." Havner's unique sense of humor and his ability to phrase truths with brilliant poignancy make him one of the most endeared preachers of the 20th century.
Endorsements
Vance Havner is one I believe that everyone should read. I doubt that I've preached many messages where I haven't quoted him. His books are hard to find, but worth the search. Wordsearch has all of Havner's books on their computer Bible study program, so no you have no excuse.