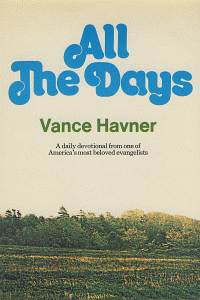 Product Details
From January 1st onward through the calendar, here is a full 365-day supply of sparkling devotions from the pen of one of the most beloved evangelists of our time. His homespun wisdom and relevant commentary have inspired thousands of Christians for more than fifty years through his vibrant sermons and by means of his dozens of inspiring books.
Now, Vance Havner turns his attention to the familiar problems and daily needs of our spiritual life, bringing always fresh insights and Scripture-based answers to everyday decisions. He writes of the joys found in Christian living and the happiness that comes to all who base their daily walk on the pathways revealed to us in the Gospel. With his special gifts of expression, he cheers the crest-fallen, relieves the pain-filled, soothes the apprehensive. He has a compassionate word for the wary, balm for the empty heart, a gentle nudge for the recall of precious memories. So many decades after he started out as a simple preacher, his Christian testimony is still coming through as loud and clear and as inspiring as ever!
With over half a century's effort behind him and with the light of the Lord stretching ahead, Vance Havner continues in the outreach of his ministry without letup. He puts his unique talents to work in the service of Jesus Christ, spreading the Good Word and bringing encouragement to countless pilgrims throughout our nation, dependent on God always for all things, praising Him all the days.
About the Author
Vance Havner (1901-1986) began preaching as a young boy and continued in the work over the course of his life. Havner pastored small country churches, preached to large city churches, prepared sermons for countless preachers, and wrote over 35 books. In 1973, the Billy Graham Evangelistic Association named Havner the "Preacher of the Year." Havner's unique sense of humor and his ability to phrase truths with brilliant poignancy make him one of the most endeared preachers of the 20th century.
Endorsements
Vance Havner is one I believe that everyone should read. I doubt that I've preached many messages where I haven't quoted him. His books are hard to find, but worth the search. Wordsearch has all of Havner's books on their computer Bible study program, so no you have no excuse.