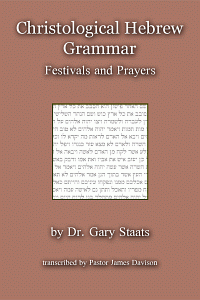 Christological Hebrew Grammar: Festivals and Prayers
Highlights
Hebrew Grammar textbook with Christological commentary in each lesson
Covers important Christological passages
Product Details
The Christological Hebrew Grammar: Festivals and Prayers teaches Hebrew grammar in an easy-to-follow style. Each lesson covers one verse from an important Christological passage and includes: 1) the text of the verse in Hebrew; 2) a list of vocabulary words taken from the verse; 3) notes on the grammar, with Commentary on meanings and background; 4) a translation of the verse based on the grammatical teachings discussed; and 5) an expository application/interpretation of the verse with an emphasis on understanding how it can be understood in light of Jesus' ministry to mankind.
This series is perfect for a Hebrew student, as a refresher on Hebrew grammar, or as a helpful resource in creating expository sermons from the passages covered. These two volumes cover selected passages from Leviticus, Numbers, and Deuteronomy and are an excellent study.
About the Author
Rev. Dr. Gary Staats is the Gale and Harriette Ritz Professor of Old Testament at Winebrenner Theological Seminary where he has taught since 1999. His areas of interest are Hebrew and Biblical Studies with a goal of seeing Jesus Christ revealed in the Scriptures.
In his academic background, he has a B.A. from Southeastern Bible College (1963), Th.M. from Dallas Theological Seminary (1967) where he majored in New Testament Greek, Th.D. from Dallas Theological Seminary (1971) where he majored in English Bible, M.A. from Dropsie College (1983) where he majored in Hebrew Bible, and his Ph.D. from New York University (1989) where he majored in Hebrew Bible and Ancient Near Eastern Languages.
He is an American Baptist minister and has taught and pastored for almost 40 years. He is married to Janet L. Staats who supports him in every area of life and ministry. His hobbies include walking and reading the Bible and other books with his wife Janet. His real passion as a teacher is that students can grow in their knowledge of the Bible and in their devotion to Jesus Christ and to pass on to others what they have learned.