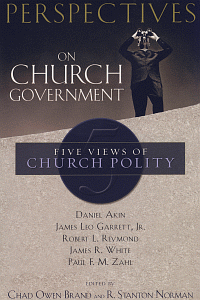 Perspectives on Church Government
Five Views of Church Polity
Product Details
How a church organizes itself can be its greatest strength and greatest weakness. Organization and leadership are crucial to the work of the kingdom of God, but with polity often comes politics. The decision as to who offers earthly governance to the body of Christ cannot be made in a cultural or historical vacuum. The Bible must be examined to determine God's intent for the governing of His people.
Perspectives on Church Government presents in counterpoint form the basic models of church government which have developed over the course of church history with a view toward determining which is the most faithful to Scripture. Each chapter is written by a prominent representative from within each tradition and deals with the biblical, historical, and theological issues for each governance tradition. In addition, each writer provides a brief response to the other traditions.
About the Editors

Daniel L. Akin was born in of 1957 in Atlanta, Georgia. He earned his B.A., at Criswell Colleget; M.Div. degree from Southwestern Baptist Theological Seminary and his Ph.D. degree from the University of Texas at Arlington. He is the President of Southeastern Baptist Theology Seminary and has been teaching at Southeastern since 2004. Before serving at president he was the Dean of the School of Theology at The Southern Baptist Theological Seminary.
Dr. Akin has served in missionary work all over the world including: Australia, Thailand, Paraguay, India, Asia and the Middle East. He is affiliated with the Evangelical Theological Society. In addition to authoring numerous articles for scholarly journals and reference works, he served as the New Testament editor of The Believers Study Bible and has authored over twenty books.
James Leo Garrett, Jr. is Distinguished Professor of Theology Emeritus at Southwestern Baptist Theological Seminary in Fort Worth, Texas. He holds a B.A. from Baylor University (1945), a B.D. from Southwestern Baptist Seminary (1948), a Th.M. from Princeton Theological Seminary (1949), a Th.D. from Southwestern Baptist Seminary (1954), and a Ph.D. from Harvard University (1966). He has also studied at the Catholic University of America, the University of Oxford, St. John's University, and Trinity Evangelical Divinity School. He has taught at both Baylor University and Southwestern Baptist Theological Seminary and was a visiting professor at the Hong Kong Baptist Theological Seminary. He has also lectured in Colombia, Mexico, Brazil, Uruguay, Romania, the Ukraine, and at numerous U.S. schools.
He has been author, co-author, editor, or co-editor of a dozen books, including Baptist Church Discipline, Baptists and Roman Catholicism and We Baptists. He has also contributed articles to twenty-one other books and has published hundreds of journal and encyclopedia articles and book reviews.
He has been a pastor or interim pastor at a number of Baptist churches. Among other activities, he has also served as the chairman of the Commission on Cooperative Christianity of the Baptist World Alliance, was an official guest at the Secretariat for Promoting Christian Unity during Vatican Council II, was secretary of the Commission on Human Rights of the Baptist World Alliance, is a former managing editor of the Southwestern Journal of Theology, and is a former editor of the Journal of Church and State. He is currently co-chairman of the Division of Study and Research of the Baptist World Alliance.
Robert L. Reymond holds his B.A., M.A., and Ph.D. degrees from Bob Jones University and has taught at Covenant Theological Seminary in St. Louis, Missouri and at Knox Theological Seminary in Fort Lauderdale, Florida. After resigning from Knox in January 2008, he accepted a call as regular pulpit supply of Holy Trinity Presbyterian Church, a new congregation in the Orthodox Presbyterian Church.
Reymond has written several books including Paul Missionary Theologian, Jesus Divine Messiah, John Calvin: His Life and Influence, Contending for the Faith: Lines in the Sand That Strengthen the Church, The God-Centered Preacher, The Reformation's Conflict with Rome: Why It Must Continue, What is God and The Lamb of God.
James R. White is the director of Alpha and Omega Ministries, a Christian apologetics organization based in Phoenix, Arizona. He received a B.A. from Grand Canyon College, an M.A. from Fuller Theological Seminary, and a Th.M., a Th.D. and a D.Min. from Columbia Evangelical Seminary. He is a professor of Greek, Hebrew, systematic theology, and various apologetics topics and is a critical consultant for the Lockman Foundation's New American Standard Bible.
White is an avid debater, having participated in over sixty moderated debates since 1990, covering topics such as Calvinism, Roman Catholicism, Islam, Mormonism, and Jehovah's Witnesses. He also contributes to a theological weblog, runs a chatroom on the Alpha and Omega website, and a bi-weekly internet radio broadcast called The Dividing Line, on which he answers call-in questions from listeners. Some of his most noted works have discussed topics such as the King-James-Only Movement and the debate between Calvinism and Arminianism. He is currently an elder of the Phoenix Reformed Baptist Church
Paul F.M. Zahl grew up in the Washington D. C. area and graduated from St Alban's School there in 1968. He went on to earn a degree from Harvard University as well as from the seminary in Nottingham, England and the doctoral program in theology at the University in Tubingen, Germany. Zahl began his ministerial career as Rector of St Mary's Church in Scarborough, New York in 1982. In 1988 he was called to the same position at St James' Church in Charleston, South Carolina, where he remained until 1992. In 1994 he accepted the call to become Dean at Birmingham's Cathedral Church of the Advent. He left in 2004 to accept the position of Dean at the Trinity Episcopal School for Ministry in Ambridge, Pennsylvania near Pittsburgh. He resigned from Trinity in May 2007 and began his service as Rector of All Saints Church in December of the same year. Paul has since retired but continues in ministry.