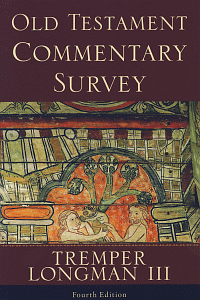 Old Testament Commentary Survey
Product Details
All serious students of the Bible seek to know which resources are most valuable to add to their growing libraries. With an abundance of tools available, relative merit is difficult to ascertain, so students often turn to trusted professors for advice. This commentary survey provides such advice from respected Old Testament scholar Tremper Longman III.
In this handy volume, Longman introduces the most popular commentaries on each book of the Old Testament, gives a brief indication of their emphases and viewpoints, and evaluates them. At the end of the book, he summarizes his top recommendations for those trying to build a library that covers every book of the Old Testament.
For this fourth edition, Longman has added comments on the commentaries published in the years since the third edition, updated his evaluations of other commentaries in light of these new additions, and refined his rating system to provide more nuance. The result is a balanced, sensible guide for those who preach and teach the Old Testament and need help in choosing the best tools.
About the Author

Tremper Longman III, B.A., Ohio Wesleyan University; M.Div., Westminster Theological Seminary and M.Phil.; Ph.D, Yale University. Longman is an Old Testament scholar and Robert H. Gundry Professor of Biblical Studies at Westmont College in Santa Barbara, California. Prior to joining Westmont in 1998, Longman taught for eighteen years at Westminster Theological Seminary in Philadelphia. Tremper has authored or coauthored 17 books, including A Biblical History of Israel and Introduction to the Old Testament, Literary Approaches to Biblical Interpretation. He was also one of the main translators of the New Living Translation and has served as a consultant for other well-known Bible translations as well.
Endorsements
A very helpful annotated bibliography for beginning students or busy ministers, lay or ordained...This book will be of great benefit to those in search of works on biblical books, but are not sure where to find them.