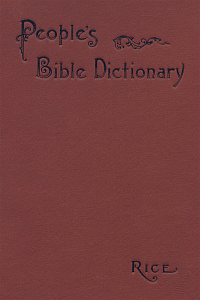 People's Dictionary of the Bible
Product Details
This work was prepared for the multitude of Christians desiring a comprehensive, concise, handy Dictionary of the Bible for a reasonable price. Avoiding denominational bias, technical theological terms, unsound teachings, and lengthy discussions, this dictionary was prepared under the following principles:
To present the results of the best scholarly information in respect to persons, places, customs, and subjects mentioned in the Bible, in alphabetical order and in a simple and concise style.
To define such words and topics only as are found in the English Bible and to give an explanation of any peculiar use or meaning of them.
To admit no name or word, about which nothing is known except the mere mention of it in the Bible.
Carefully to exclude whatever would be regarded as sectarian or denominational by any body of Evangelical Christians. It is needless to add that this did not exclude any Bible terms.
To give the pronunciation and meaning of names and titles. Special attention has been given to more marked fulfillments of prophecy.
The appendix contains a list of parables and miracles in the Bible; tables of time, weights, measures, distances, and moneys; titles and names of Christ; and, valuable chronological tables.
About the Author
Edwin W. Rice (1831-1929) studied theology at Union Theological Seminary in New York, in which city he subsequently served as a teacher for a year. Following his teaching service, he went on to become a missionary with the American Sunday School Union and received ordination as a Congregationalist minister in 1860. Rice also served as an editor of the American Sunday School Union's periodicals and publications and assisted in the writing or editing of many lessons and books. He himself authored several Bible references, lessons, books, and articles.