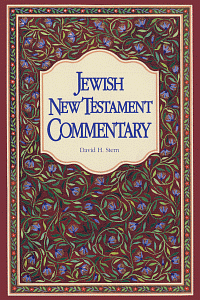 Jewish New Testament Commentary
Highlights
A companion volume to the Jewish New Testament
From a Messianic Jewish Perspective
Product Details
Drawing on years of research, Dr. Stern relates the New Testament text to the "Tanakh" ("Old Testament"), to the historical setting, to rabbinic materials and to Christian theology. He answers questions Jewish people have about Yeshua, the New Testament and Christianity; questions Christians have about Judaism and the Jewish roots of their faith; and questions Messianic Jews have about being both Jewish and Messianic.
He demonstrates that the New Testament upholds Jewish values and verities, such as the oneness of God, the chosen-ness of Israel, the sanctity of the Torah, and the importance of works along with faith. He also shows how the New Testament speaks to modern issues like assimilation, intermarriage, missionizing and anti-semitism. Finally, in terms of Greek and Hebrew languages, Judaism and first-century culture, he explains controversial "Jewish New Testament" renderings.
The "Jewish New Testament" and "Jewish New Testament Commentary" challenge Christians to rediscover their Jewish connection and Jews to discover their Jewish Messiah. These two books belong on the shelf of everyone who wants to understand the Bible better.
About the Author
Dr. Stern's background includes a Master of Divinity degree from Fuller Theological Seminary, graduate work at the University of Judaism (now the American Jewish University), and a Ph.D. in economics from Princeton University. He taught the first course in 'Judaism and Christianity' at Fuller Theological Seminary and served as a professor at UCLA.
Dr. Stern was born in Los Angeles in 1935, was raised in the Jewish religion, and came to faith in the Jewish Messiah, Yeshua, when he was thirty-seven years old. He moved to Israel in 1979 and is active in Israel's Messianic Jewish community.