Holman Old and New Testament Commentary
Highlights
Great for Bible teachers, small group leaders, Sunday School teachers
Verse-by-verse commentary based on the New International Version
Features teaching outlines, deeper discoveries, and a closing prayer
Contains contemporary illustrations
32 Volumes in all
Product Details
Be sure to view the short demonstration video above.
The Holman Old and New Testament Commentary is 32 volumes, covering each passage of your Bible. Each volume is uniquely organized to aid you in passing on Bible truths to others in order to make positive changes in their lives. In other words, this commentary goes beyond just explaining and gives you what you need to teach and preach on each passage.
This commentary is set up to work well for detailed interpretation or viewing quick summaries if time is a restraint. Along with detailed explanation, each passage includes a Supporting Idea that is a brief sentence of what you are about to learn, and a Main Idea Review that will summarize the main idea of the passage. These are in easy to spot boxes in Wordsearch and make it easy to find the points you are most interested in studying.
The end of each chapter also includes Principles and Applications lists, a teaching outline, and more discussion questions that are all in an accessible format in Wordsearch.
Here's more detail on what you'll find included for every passage of your Bible:
Opening Quotations from some of the church's best writers lead to an introductory illustration and discussion that draw individuals and study groups into the Word of God.
In a Nutshell sections summarize the content and teaching of each chapter.
Introductions set the scene by outlining what you are about to learn.
Verse-By-Verse Commentary answers the church's questions rather than raising issues scholars usually admit they cannot adequately solve.
Conclusions summarize the key lessons and biblical truths in each text.
Life Applications encourage students to move from Bible times to contemporary times. A specific modern illustration then ties the application to present life.
Prayer in each passage aids the student to commit his or her daily life to the principles and applications found in the Bible chapter being studied.
Deeper Studies for those still hungry for more. These take you into a more personal, in-depth study of the words, phrases, and themes of God's Word.
Teaching Outlines provide transitional statements and conclusions along with an outline to assist you in group Bible studies.
Issues for Discussion sections present a list of interesting discussion questions that will engage students in thoughtful contemplation of the Bible text.
The Holman Old and New Testament Commentary is a valuable resource for modern, applicational commentary that makes it quick and easy to study the Bible. Search, explore, learn and teach with remarkable speed!
Check out a sample of this commentary by clicking on the yellow "Sample" button under the book cover on this page.
About the Editor:
Max Anders holds an M.Div. from Dallas Theological Seminary and a Ph.D. from Western Seminary. Dr. Anders has taught on the college and seminary level, was an original team member of Walk Thru the Bible Ministries, and was a pastor for over 15 years. He is the author of over twenty books.
Products Included In This Bundle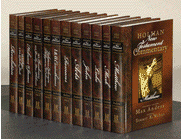 Holman New Testament Commentary Series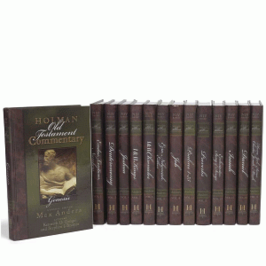 Holman Old Testament Commentary Series