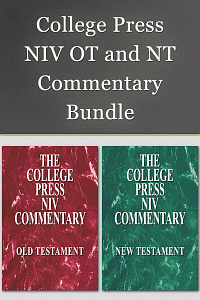 College Press NIV OT and NT Commentary Bundle
Highlights
Sound exegesis, clear exposition, objective approach, concise introductions, key word translations, practical footnotes
Expounds on the full length NIV text
Developed for both the scholar and the average Bible student
Bonus Material: Old and New Testament Introductions
Product Details
Have you ever wondered how different denominations can read the same Bible and interpret it so differently? College Press is a 54-year-old Christian publisher grounded in the Restoration Movement. For over 100 years, the Restoration Movement has been based on the ideals of bringing all Christians together on the common ground of God's Word and examples of the New Testament Church. Based on this idea, College Press spent 10 years carefully putting this massive verse-by-verse commentary on the entire Bible together. They intelligently explore how differing views of the original text have affected different doctrines of the faith.
Described as a scholarly commentary, The College Press NIV Commentary volumes delve frequently into the original languages of the texts.The expert commentators look at each verse of the Bible. They carefully examine ancient manuscripts and point out when differences arise between them. Yet it's understandable and useful to ANY serious Bible student, especially those who have tools like Wordsearch at their disposal.
A good example of this can be found in the famous passage of Romans 8:28. "All things work together for the good..." Some ancient texts contain 2 additional words and some don't. The commentator explains how this leads to 3 different Christian doctrines that result from this single verse. He fairly describes the strengths and weaknesses of each argument and admits which one he favors and why. What you get is a thorough understanding of the text and its implications.
As this is an NIV commentary, it follows the NIV translation as its basic text. Since so much attention is given to the original languages, the authors freely explain why many other popular translations are worded differently. The benefit to you is a wider, richer understanding of the original meaning of the Bible's authors.
The College Press NIV Commentary Bundle is rich in detail, holds closely to the ancient languages, and excels at transcending denominations by pointing to the important things that draw us all together as Christians.
Check out a sample of this commentary by clicking on the "Sample" button.
Products Included In This Bundle