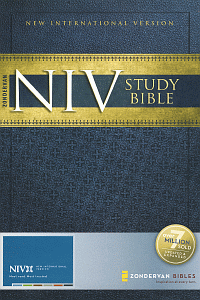 Highlights
Over 20,000 study notes, thoroughly revised and updated by a team of NIV translators
900 Character Profile icons
425 Archaeology icons
Almost 3,000 Personal Application icons
Introductions and outlines provide valuable background information for each book
of the Bible
Maps, charts, diagrams, and illustrations visually clarify the stories in the
Bible
16 pages of full-color maps, plus a time-line and presentation page
Named as the Master's Seminary's 850 Best Books for Biblical Expositors
Product Details
The Zondervan NIV Study Bible is the #1 bestselling study Bible in the bestselling NIV translation. And now it includes for 2008 over 20,000 fully revised and updated study notes and a library of study resources at your fingertips. Since its first release in 1985, the Gold Medallion Award-Winning NIV Study Bible has become the treasured and trusted companion of millions of avid Bible users. For 2008, the NIV Study Bible's 20,000-plus study notes and other features have been thoroughly edited, revised and improved. Unmatched in any other Study Bible, these notes have been crafted to reflect the most current conservative Bible scholarship. Other study features place at your fingertips a treasury of instant commentary from today's top evangelical scholars. Icons highlight notes of special interest in the areas of character study, archaeology, and personal application. Simply put, you won't find study notes as complete, up-to-date, helpful, and easy to use anywhere else.
Referred to daily by millions of pastors, students, church leaders, and other Bible readers around the world, the renowned Zondervan NIV Study Bible notes are the crown jewel of the world's bestselling study Bible. The over-20,000 notes are the handiwork of the same translation team that produced the New International Version. The same exacting, conservative scholarship that brought you today's most read, most trusted Bible translation went into creating the most celebrated, widely used Bible study notes in existence.
Like no other Bible, the Zondervan NIV Study Bible places an entire resource library for Bible study in your hands.