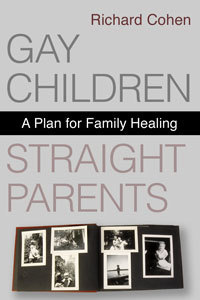 Gay Children, Straight Parents
A Plan for Family Healing
Highlights
Written by a trained psychotherapist who was once gay and has experienced the trials and transformation he writes about
Based on material used in his private practice and includes results and testimonials
Endorsed by professionals in sexual healing ministries
Clear, compassionate and informed guidance for parents who want healthy relationships with their gay or sexually confused children
Product Details
Here is hope and healing for families.
If you are a parent looking for real guidance and wise help for healing and restoring your relationship with a son or daughter dealing with same-sex attraction, Richard Cohen has written this book for you. Out of his own experience and the experience of many of those he has served in his counseling practice, Cohen sets out a step-by-step plan that offers a path toward renewed family relationships grounded in love, faith and mutual respect.
About the Author
Richard Cohen, M.A. is a psychotherapist, coach and educator in the field of sexual reorientation therapy, and the author of Coming Out Straight and Alfie's Home. He is the executive director of the International Healing Foundation (IHF) based in the Washington, D.C. metropolitan area.
Endorsements
Richard is movingly candid about the brokenness in his own family life, and he's not afraid to get down in the trenches and cry, mourn and laugh with everyone else who struggles. This book offers sound practical advice for healing family relationships.
Words cannot express the gratitude that we feel in our hearts for the incredible enlightenment that we have received from Gay Children, Straight Parents. This book has changed the life of our family and helped our daughter heal from same-sex attractions. Words can never express the depth of our gratitude.
This book helped us go from shock and disbelief to an understanding of what happened to our son who experiences same-sex attractions. It showed us how to develop an action plan to help heal the wounds of his heart. This sensitive, intelligent man is now, with his dad's love and encouragement, learning to take the necessary steps into manhood. The personal stories of change throughout the book gave us real hope. We feel confident about our son's future.
I enthusiastically recommend Gay Children, Straight Parents as a must-read for every parent facing the difficult discovery of their child's homosexuality. Richard's compassionate approach relieves the stigma and shame often associated with a loved-one's homosexual struggle. Whether a parent has just found out or is years into their journey with their gay son or daughter, they will glean understanding, support, guidance and encouragement in their ongoing efforts to love their child well.
A helpful resource for parents who are intentional about loving their children well.
It is with gratitude to Richard for filling so many voids in the world of healing same-sex attraction, and for his continuing leadership and distinctive insights, that I highly recommend this long-awaited text.
We all want the best for our children. Please read this book and follow Richard's suggestions for building a healthy parent-child relationship, one based on unconditional love and mutual respect.
Cohen offers a caring approach that promises progress, whether the gay child desires to "come out straight," is confused or undecided, or believes he or she was born with SSA and therefore cannot or should not change.
This book offers a positive, accurate, factual approach to parents who have a child who has same sex attraction.