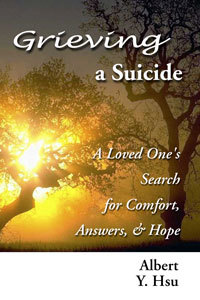 Grieving a Suicide
A Loved One's Search for Comfort, Answers, and Hope
Highlights
Explores emotional, spiritual and theological issues surrounding suicide
Points suicide survivors to the God who offers comfort in grief and hope for the future
Drawn from the author's personal experience as well as the experiences of others
Shows that suicide is one of the most serious public health crises of modern times, claiming over one million lives worldwide every year
Draws on the resources of the Christian faith
Acknowledges that there are no easy answers
Includes an appendix of resources on suicide
A 2003 Christian Book Award finalist (United Kingdom)
Product Details
Every seventeen minutes, someone in the United States dies by suicide. It is one of the most serious public health crises of modern times, claiming over one million lives worldwide every year.
Those who have lost a loved one to suicide experience tremendous shock and trauma, with a confusing mix of emotions--anger, guilt, grief and despair. Suicide also raises heartrending questions: Why did this happen? Why didn't we see it coming? Many also wonder if those who choose suicide are doomed to an eternity separated from God and loved ones. Some may even start asking whether life is worth living at all.
After his father's death by suicide, Albert Hsu wrestled with the intense emotional and spiritual questions surrounding suicide. While acknowledging that there are no easy answers, Hsu draws on the resources of the Christian faith to point suicide survivors to the God who offers comfort in our grief and hope for the future.
If you have lost a loved one to suicide or provide pastoral care to those left behind, this book is an essential companion for the journey toward healing.
About the Author
Albert Y. Hsu (pronounced "shee") is an editor at InterVarsity Press, where he acquires and develops books in such fields as discipleship, spiritual formation, cultural critique, church and mission and multiethnic issues. He is the author of Singles at the Crossroads, Grieving a Suicide and The Suburban Christian. He and his wife, Ellen, serve as worship leaders at their Anglican church plant. They have two sons and live in the western suburbs of Chicago.
Endorsements
This guide for suicide survivors--family and friends of people who took their own lives--maintains InterVarsity Press's tradition of cerebral evangelicalism: it is biblical, well reasoned, clearly presented and thoroughly researched. . . . An unexpected bonus is the personal thread [Albert Y.] Hsu weaves through each chapter, the story of his own deep grief at his father's sudden suicide four years ago. . . . With its careful biblical exposition presented in a friendly homiletical style, Hsu's how-to-think-about-suicide book will have value for evangelical pastors and counselors as much as--perhaps even more than--for the bereaved themselves.
I think the material in this book will be a godsend. . . . It is a solid handbook to propel the reader through the anguish that suicide brings on. This is unlike any other book on this particular subject and will prove to be a must-read for counselors, as well as stricken families.
In Grieving a Suicide, Al Hsu has done what few can do. He has created a thoughtful, empathic, spiritually ennobling and practically helpful account of his response to the loss of his father by suicide. Al's journey shows how suffering, when we know the Lord, can mature us. I started merely to scan the book just before leaving for a trip, and drawn into the narrative, I read it straight through by the time my flight was finished. Wow!
Hsu's wise, bittersweet, intelligently written book relates his own coping with unexpected, violent death and compassionately examines the emotional and theological issues of suicide. . . . Respecting his readers--for instance, by acknowledging individual differences in grieving--Hsu encourages remembering while lamenting and realizing that one will never know what could have been. He addresses such difficult, unanswerable questions as 'Why did it happen?' and 'Could anything have prevented it?' while exploring the morality of suicide and the problem of forgiving the suicide with great sensitivity and care. Suffering, he concludes, is part of the human condition. Rather than pondering 'unfathomable mysteries,' it is better to do one's best to achieve relief. Despite suffering, one can still find meaning, connect with others, and hope that good can come from pain and healing from grief. Strongly recommended for those who have lost a loved one to suicide.
Hsu gives those who have lost loved ones this way a helpful handbook for dealing with the shock, denial, grieving, the ever-present question 'why' and the awful finality of a sudden death. This book will help survivors understand they are not alone in their suffering. Hsu offers excellent advice on how to move from the grieving period into the recovery period and, finally, into the remembering period. While some of the stories, and Hsu's personal experience, will make you cry, this is a must-have book for anyone who is a suicide survivor. By the time readers finish the book, they will know, thanks to Hsu's encouraging style of writing, they will be able to go on.
The author does an outstanding job exploring his own emotions and spiritual responses to this tragedy. Hsu opens this poignant and informative book with five chapters devoted to the initial aftermath suicide survivors must face. He breaks these key journey-points into five parts: shock, turmoil, lament, relinquishment, and remembrance. Hsu also tackles the toughest questions survivors ask, 'Why?', 'Can suicide be forgiven?' and 'Where is God?' This remarkable resource will surely meet the needs of those dealing with a loved one's suicide. Hsu's words fairly shine with the one commodity most needed at times of such immense pain--hope.