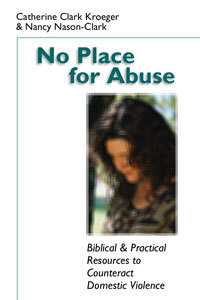 No Place for Abuse
Biblical and Practical Resources to Counteract Domestic Violence
Highlights
Well-researched statistics and illustrative stories about the problem of violence within families today
Clearly presents what the Bible says about physical and verbal abuse
Cautions against misrepresentations of Scripture that can further threaten victims
Assesses alternatives to enduring an environment of abuse
Offers practical tools for pastors and counselors when dealing with possible cases of domestic abuse and violence
Includes Bible studies, group activities, sermon suggestions and other educational resources
Includes a variety of helpful notes and references on the subject of family violence
Product Details
Domestic violence is a leading cause of injury and death to women worldwide. One in five women around the globe is physically or sexually abused in her lifetime, and gender violence causes more death and disability among women aged 15 to 44 than cancer, malaria, traffic accidents or war. Regrettably, the church is not immune to this problem; some studies suggest that incident rates of domestic violence among active churchgoers are not much lower than those among the general populace.
Representing the International Task Force on Abuse, formed under the auspices of the Women's Commission of the World Evangelical Fellowship, Catherine Clark Kroeger and Nancy Nason-Clark have listened to the voices of women from around the world and especially to those within the church. Now they help us hear their cries and find concrete ways to respond so that no home will be a place of abuse.
In this immensely helpful guide you'll find:
True stories and statistics that illustrate the gravity and extent of the domestic violence
A look at what Scripture says about domestic violence, including verbal abuse and patterns of concealment, secrecy and silence
A discussion of how proper concerns for Christian families can be twisted to endanger women and their children
An assessment of alternatives to suffering in silence in a threatening environment
Practical tools for pastors and other counselors for interviewing abuse victims and perpetrators
Outlines for sermons, Bible studies and youth group activities that address the problem of domestic violence
No Place for Abuse is an essential book for pastors, counselors, church leaders, missionaries, evangelists, teachers--indeed, for anyone who wants to make a difference in women's lives.
About the Authors
Kroeger is adjunct associate professor of classical and ministry studies at Gordon-Conwell Theological Seminary. With James Beck, she edited Women, Abuse and the Bible and Healing the Hurting, and with Mary J. Evans she edited The IVP Women's Bible Commentary.
Nancy Nason-Clark is professor of sociology at University of New Brunswick, Canada. Her books include Refuge from Abuse and The Battered Wife: How Christians Confront Family Violence.