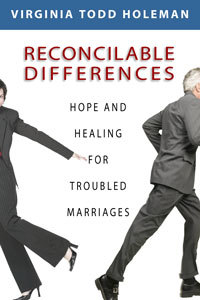 Reconcilable Differences
Hope and Healing for Trouble Marriages
Highlights
Written by an experienced teacher and counselor
Biblically informed
Theologically rich
Draws on the best of current psychological studies on forgiveness, repentance and reconciliation
Provides honest and practical helps which lay out what it takes to pursue real reconciliation
Allows readers to hear couples tell in their own words what it was like to travel the sometimes long road to reconciliation
Product Details
What does it take to really make right a severely damaged relationship? When going back to how things were is not nearly good enough, is there hope for true transformation and healing?
Counselor and teacher Virginia Todd Holeman weaves together biblical insight and rich theological reflection while drawing from the best of current psychological studies on forgiveness, repentance and reconciling. Out of her own research you will hear the poignant stories of married couples who tell in their own words what it's like to seek reconciliation in seemingly hopeless situations. Complete with honest and practical help, this book will be an encouragement to married couples who dare to hope for the healing and transforming of broken relationships and for counselors and pastors who want to work more effectively with them.
About the Author
Virginia Todd Holeman is professor of counseling at Asbury Theological Seminary in Wilmore, Kentucky. She previously taught at Ashland Theological Seminary and Kent State University, and worked at New Life Family Ministries in Akron, Ohio. Holeman is a licensed psychologist in Ohio and a licensed marriage and family therapist in Kentucky. As a member of the American Association for Marriage and Family Therapy, she leads workshops and seminars around the country. She contributes to professional journals and speaks at churches, conferences and universities on the topics of forgiveness and family.
Endorsements
Toddy Holeman weaves stories of betrayal and reconciliation out of and into the story of God's good news. The result is a message that is both down-to-earth in its grappling with the hurts of human relationships and profound in its appropriation of the gospel. Here is the plain and hopeful talk we desperately need.
Dr. Toddy Holeman is the reigning authority on reconciliation. In Reconcilable Differences she blends biblical and theological truth and psychological truth into a practical book that helps people reconcile. Commitment and transformation are the keys to reconciling differences. Commit to reading the book, and it could transform your relationship.
Virginia Todd Holeman has done a superb job of blending the theoretical and practical ideas on how couples can get over emotionally painful issues and move on to intimacy. Reconcilable Differences will become a standard volume in my library on helping couples heal.
Dr. Holeman has done an incredible job of using the best research on forgiveness and reconciliation in marriages and made it accessible for anyone to understand. This book is full of practical ideas on reconciling after minor or major hurts in a marriage. It is something desperately needed by any couple who has experienced hurts in their relationship. When couples face the desire to reconcile but are struggling to achieve it, this book will walk them through with examples and ideas they might never have thought of. The stories and exemplar couples bring the ideas to life. Dr. Holeman's background as a theologian, scholar and clinician makes her uniquely qualified to tackle the difficult issue of marital reconciliation from a Christian perspective. Readers will be inspired and equipped to face the areas of their marriage where they need reconciliation.
St. Paul writes that Christ's message of reconciliation has been entrusted to us. That makes for great sermons but challenging discipleship in daily life. This is especially challenging in marriages and other close relationships where betrayal can be so painful and potentially shattering. In this wise, practical and much-needed book, Toddy Holeman thoughtfully guides couples to envision and embody faithful ways of living as forgiving and forgiven people--even in the wake of brokenness. I hope this wonderful resource will be widely read and used!
Reconcilable Differences offers one of the freshest contributions to evangelical social science I have read in many years. Toddy Holeman's research and integrative theory-building offers a great resource for both practitioners and researchers. Almost every week couples sit in my therapy office wondering if it is actually possible to truly reconcile without sacrificing their own integrity. This book documents the real-life stories of couples who have done just that, and Holeman describes a differentiation-based approach to reconciliation that is both theologically grounded and relationally healthy.
It will be helpful to couples who are experiencing difficulties in their marriages. It will be helpful to all couples in learning essential truths for gaining intimacy in marriage.