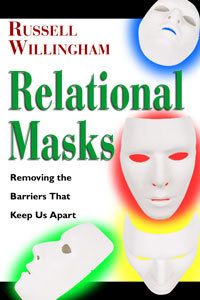 Relational Masks
Removing the Barriers that Keep Us Apart
Highlights
Unpacks six relational masks that separate us from others and identifies their underlying core beliefs
Filled with vivid, real-life stories of people struggling with and learning to remove their relational masks
Born out of the author's practical counseling experience
Gives insight into why people get stuck in unhealthy relational patterns
Product Details
The Avoider. The Deflector. The Self-Blamer. The Aggressor.
Recognize someone you know? Or yourself?
We all know people who seem to get stuck in unhealthy patterns of relating to others. Sometimes we're puzzled by a loved one's evasiveness or surprised by a friend's defensive aggression. Occasionally we look in the mirror and see such troubling behaviors in ourselves. All of these are masks that we hide behind, and they prevent us from having authentic relationships with others.
Counselor Russell Willingham identifies the relational masks that obstruct us from relating freely to other people and to God. Drawing on a wealth of practical experience and biblical insight, he diagnoses the destructive ways that we respond to others and shows how underlying false beliefs govern our thinking and actions. He also shows how each mask can be subverted from within and turned inside out to help us move toward healthy relationships. Each chapter includes tools and questions for discussion and application.
Discover how to relate to others with the honesty and authenticity God intended--and find the relational freedom and satisfaction you've been yearning for.
About the Author
Russell Willingham is executive director of New Creation Ministries, based in Fresno, California. He counsels, leads groups and speaks nationwide on issues related to sexual addiction. He has presented workshops at several annual conferences of Exodus International, at the American Association of Christian Counselors World Conference (2001) and at the AACC Superconference on Sexuality (2002). He is also a participant in AACC's video curriculum on healthy sexuality. He is an ordained minister with the Assemblies of God International Fellowship and works under the supervision of Dr. Jonathan Olford, Ph.D. of the Link Care Counseling Center in Fresno, California.
Endorsements
It is a sad reality of modern life that humans have great difficulty understanding themselves. In particular, we don't recognize the masks we put up in our relationships--to people and to God. Russell Willingham's book, therefore, is timely and helpful in unfolding the more common masks we struggle with. Complete with penetrating questions to prompt our thinking and subversion strategies that can be used to reverse these masks, the book is straightforward and effective in helping the reader find clear biblical and psychological help for even the most robust of interpersonal barriers.
This book is refreshingly real and candid. Russell creatively presents a clear and practical framework to help us identify and overcome our own self-protective masks. If you want deeper and more meaningful relationships, this book is for you!
Wow! I saw myself in this book before I had even finished chapter one. Russell Willingham has vast experience in counseling those who struggle with their relationships (don't we all?). This book gives a multitude of helpful insights and practical suggestions. It's a winner!
This simple, practical and authentic book uncovers the core of our false ways of relating to God and others. It will challenge and encourage you to seek true intimacy.