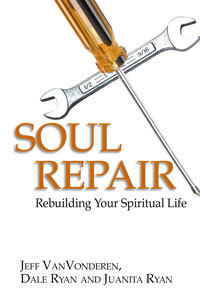 Soul Repair
Rebuilding Your Spiritual Life
Product Details
Do you fear that God is angry with you? Do you wonder if God is really for you? if God really loves you? Deep down many of us believe that we are not good enough, and never will be good enough, to have a meaningful relationship with God. This is because we have been spiritually trained in ways that have left us with distorted and inadequate spiritualities of four different kinds:
abusive
anorexic
addictive
codependent
And we are left with a toxic combination of fear and shame. We may try to get it right. We may try to control ourselves and others. We may try to please God and to earn God's love. After a while we find ourselves exhausted and discouraged, and we may feel even more alienated from God.
Jeff VanVonderen, Dale Ryan and Juanita Ryan understand this problem because they have been there both personally and professionally. And they are prepared to help you rebuild your spiritual life. If you find yourself living out a burdensome and unfulfilling spirituality, this book is for you. If you are longing to have a relationship with God that works, this book can show you the way.
About the Authors
Jeff VanVonderen is a speaker and consultant in the areas of addiction, family systems and recovery. He is one of the featured interventionists on the Arts & Entertainment Network show Intervention. He is the author of Good News for the Chemically Dependent, Families Where Grace Is in Place, When God's People Let You Down, Tired of Trying to Measure Up and The Subtle Power of Spiritual Abuse.
Dale Ryan is CEO of Christian Recovery International. He is also an assistant professor of recovery ministry and director of the Fuller Institute for Recovery Ministry at Fuller Theological Seminary. He has consulted with ministries in several countries who are seeking to develop support groups for alcoholics and addicts and their families. He is a coauthor of The Twelve Steps: A Spiritual Kindergarten, Rooted in God's Love and Bible study guides published by InterVarsity Press.
Juanita Ryan is a clinical nurse specialist with an M.S.N. in psychiatric mental health nursing. She has taught mental health nursing at Bethel University, Rio Hondo Community College and Biola University. She is currently a therapist in private practice at Brea Family Counseling Center in Brea, California. She is the coauthor of The Twelve Steps: A Spiritual Kindergarten and the author or coauthor of over thirty InterVarsity Press Bible studies.
Endorsements
The authors provide the reader with tools for rebuilding a healthy view of God and of self.
The tone of Soul Repair is firm but gentle, striking at the very core of dysfunctional spirituality while tenderly providing help. The chapters are filled with anecdotes that will help you begin repairing the remnants of our sometimes-hazy image of the true God of Jesus