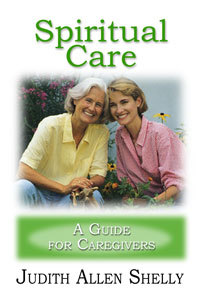 Spiritual Care
A Guide for Caregivers
Highlights
Offers a straightforward "how-to" strategy for caring
Shows how to offer spiritual care along with physical support
Describes caregiving actions like community, prayer, music, books, touch and compassionate presence
Filled with stories and step-by-step suggestions
Offers resources for answering tough questions that are often asked by those in the midst of illness or tragedy
Clarifies the difference between secular fascination with spirituality and true biblical spirituality
Includes a bibliography and indexes
Product Details
What did I do to deserve cancer?
I don't understand it, but I can't seem to pray anymore. Why does God seem so far away?
The idea of dying scares me. How can I cope?
What do you say to a person in crisis? When illness or tragedy strikes, you may find yourself caring for a family member, friend or neighbor who asks you for answers to some of life's ultimate questions. How can you meet these deep spiritual needs?
This personal and practical book deals with the difficult issues and sensitive situations that caregivers often confront. Judy Shelly explains how to offer spiritual support to those facing suffering, illness or other crises.
Shelly considers a variety of suggestions caregivers can put into action, including Christian community, compassionate presence, prayer, Scripture, books, touch and music. In addition, she explains and evaluates alternative therapies that have become popular in the health care and counseling fields. And finally, she reminds caregivers of the need to care for themselves, offering suggestions for finding rest, advice and encouragement.
Spiritual Care: A Guide for Caregivers is a classic resource book that is now completely rewritten for all caregivers (not just medical professionals and pastors). Here is the guide that will help you meet the spiritual needs of those you love with grace, skill and genuine hope.
About the Author
Judith Allen Shelly, R.N., B.S.N., M.A., D.Min., is publications director for Nurses Christian Fellowship, director of NCF Press and former editor of the Journal of Christian Nursing. Her editorial work has won numerous awards from the Evangelical Press Association. Shelly has written or co-written many books, including The Changing Face of Health Care, Called to Care, Four Great Loves, and Spiritual Dimensions of Mental Health. Her articles have appeared in journals such as Ethics and Medicine, Christian Counseling Today and Christian Bioethics. She has also been an adjunct professor at Yonsei University in Seoul, Korea, and at North Park University in Chicago, Illinois.
Endorsements
Not written strictly for healthcare professionals, but for anyone involved in reaching out as Christian caregivers to family members, friends or neighbors. Shelly, editor of the Journal of Christian Nursing, takes a compassionate approach to caring for the whole person. This approach also enables the caregiver to share the burden of responsibility by developing a spiritual care team to aid the patient. In today's society, people are more open to spirituality than they have been in the past, so the author urges the reader not to hesitate in sharing the faith and love that will help the afflicted through the trials of illness. Home healthcare workers, pastors and church lay visitors, as well as family caregivers, would benefit from reading this book.
Shelly explores spirituality's significance in physical caregiving. She discusses what spiritual care is, how to do it, and how to care for the caregiver. As both a nurse and a doctor, Shelly is in a unique position to discuss this subject. Illustrations, exercises, and charts pepper the material. Recommend this book for people dealing with long-term, difficult caregiving in the home, church body, health-care facilities, or community.