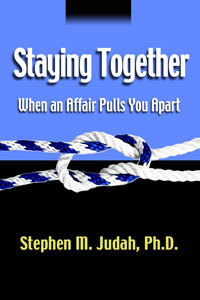 Staying Together
When an Affair Pulls You Apart
Highlights
Systematic insights into affair conditions and how to guard against them
Practical, honest guidance into confronting and overcoming infidelity
Forward-looking guidance into rebuilding trust and restoring love and commitment to a relationship
Many hope-filled client stories
Product Details
Affairs happen, and when a marriage is threatened by infidelity, all parties involved can become desperate. The air gets pretty thin, and our ability to look past our immediate needs is compromised. We're tempted to look out only for ourselves, and the marital relationship is left hanging on for dear life.
How did we get here? Where do we go from here? Can this relationship survive?
Steve Judah explores the phenomenon of infidelity, considering both the push of marital discord and the pull of sexual temptation. With clear and helpful analysis of the relational science behind infidelity, he delivers a tested way back toward a meaningful marriage.
Your marriage can survive and even thrive after infidelity has been confronted. This book provides a savvy, practical and hopeful guide for couples to navigate this turbulent terrain and find their way back to one another.
About the Author
Stephen M. Judah (1950-2008) earned a bachelor's degree in Psychology and Religion from Wabash College, as well as a M.A. and Ph.D. in psychology from the Ohio State University. Ordained as a minister in the Free Methodist Church, Steve served as a pastor at Northwest United Methodist Church in Columbus, and then worked at the Milhon Medical Clinic as a therapist for several years.
Licensed as a psychologist in 1983, he founded and directed Psych-Care, one of the largest multidiscipline clinical and counseling practices in Ohio and emerged as a leader in the field of relationships for both couples and businesses.
Through leading hundreds of couples through healing and restoration, he developed a simple method for relational wholeness that he called the Essential Disciplines. This method has been utilized nationwide by multiple organizations and businesses, including The Dibble Institute, an organization dedicated to helping young people learn the skills necessary for successful relationships and marriages.
Steve served as the executive director of the Columbus Marriage Coalition, a local nonprofit organization that encourages healthy marriages through education and advocacy. In November of 2005, Steve and his wife Sharon became charter members of the Marriage CoMission, an organization that serves together as an allied force to support the marriage movement in America.
Endorsements
Stephen M. Judah could have become a distinguished research scholar and settled down in the academy as a teacher. Instead, he writes as a lieutenant wrestling in the frontlines of marriages coming unglued. His persistent, careful observation of human experience and his dedication to establish a model of triage for the wounded have given him visible wisdom and an authority unlike anyone I know who writes on healing for broken relationships. Look no further: this is the premier treatment of 'the affair,' and all of us will find ways to incorporate the wisdom the author offers.
Dr. Judah's experience and training reveal the need for high character to inform our marriages when infidelity breaches have occurred. This book can and will help those who desire to reconcile with their spouse and be restored to their family.
This wonderful book provides hope--the most important ingredient for recovery after infidelity. The hope rests on five essential disciplines: practical, step-by-step guidelines that help couples navigate the broken terrain and rebuild trust. I highly recommend it.
This book reflects a deep understanding of the anatomy of affairs and how to survive them. Judah is a good writer, detailed and clear. Clinicians will find much to assist them in working with couples, and sophisticated readers will find excellent guidance in repairing their relationship.
In Staying Together, Stephen M. Judah provides very helpful information about what kind of affairs exist, what causes affairs, and how affairs affect the offending party. The major contribution of this book is found in the author's practical steps he offers couples who seek to reunite after experience infidelity.
Judah offers very practical advice in bringing healing and reconciliation to everyone involved, including the third party in the affair.