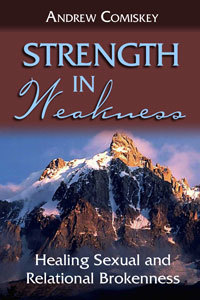 Strength in Weakness
Healing Sexual and Relational Brokenness
Highlights
Encourages men and women struggling with sexual or relational brokenness
Focuses on the healing and transforming power of the cross
Shows how you can find power in weakness when you rely solely on Christ
Addresses sexual infidelity, sexual addictions, homosexuality, sexual abuse and more
Author also wrote Pursuing Sexual Wholeness with more than 50,000 sold!
Author is an international speaker with Desert Streams Ministries
Product Details
Help and hope for men . . .
Undermined by silent fathers
Harassed by pornography and sexual temptation
Afraid of failing those they love most
Angered by past relationships with women
Help and hope for women . . .
Lost in their relationships with others
Betrayed by fathers, husbands or male leaders
Wounded by sexual assault
Paralyzed by self-hatred
Andrew Comiskey sees our weakness as "a threshold for holy power"--the point at which God can meet us for healing and equip us for service. He has seen it happen again and again. During many years of ministry, Comiskey, his wife, Annette, and their fellow "strugglers" have accompanied hundreds of wounded men and women to transformation at the cross of Christ.
Telling real-life stories of despair, hope and lasting change, Comiskey lays out the foundations for healing from relational and sexual sin. With chapters focusing on particular areas of vulnerability for men and women, on the battle over homosexuality in church and culture, and on the essential role of the church in ongoing healing, Strength in Weakness makes clear the way to the cross--God's sufficient answer to our deepest needs.
About the Author
Comiskey (M.Div., Fuller Theological Seminary) is a pastor and founder/director of Desert Stream Ministries. He previously served as pastor at several Vineyard churches and as president of Exodus International. His books include Pursuing Sexual Wholeness (Creation House, 1989), Living Waters Guidebook (Desert Stream Press, 1993), CrossCurrent (Desert Stream Press, 1998) and The Kingdom of God & the Homosexual (Desert Stream Press, 2000).
Endorsements
With his characteristic candor and clarity, Andrew Comiskey leads us through his own journey toward sexual completeness and spiritual wholeness. His theological insights regarding human sexuality and relational authenticity are biblically based and practically applied. There is a profound spiritual depth to this book that dares to recognize the toxic nature of sin in order to release the healing power of grace. As we experience healing and completeness as sexual persons, we discover wholeness and health as spiritual persons. Reading this book is to be led by the Good Shepherd beside still waters and discover the power of the One who 'restores my soul.'
In this honest book, Comiskey reveals that setbacks and temptations are inevitable stumbling blocks along the long, difficult road to gender wholeness. This is true for anyone seeking release from any deep-seated psychological condition or behavioral pattern--substance addiction, depression, feelings of worthlessness or the struggle against unwanted attractions. Yet it is often the wounded healers--when they are open about the frailty that often attends victory--who go on to live the boldest and most victorious lives. I highly recommend this book.
Using Genesis 3:1, Comiskey shows how sin leads to an alienation of man from woman and woman from man, with all its disastrous consequences for family and children. Comiskey shows how important it is for a man to be truly masculine and a woman to be truly feminine, and for each to complement the other. While sin destroys the harmony that ought to exist between man and woman, Christ rescues man and woman from isolation by becoming the bond between them, prompting each to be reconciled with the other.
Strength in Weakness makes it clear that what God gives to the weak really is strength and not weakness. We are enabled to be 'strong in the Lord and in the power of his might,' as Paul said. And we can learn to negotiate the intricacies of fantasy, feeling and context in such a way that we do walk in holiness and power wherever we are. These are universal lessons of the way of Christ, no matter what one's personal history may be."—Dallas Willard
Reading this amazing book, I was reminded of a citrus farmer who showed me how a tree becomes root-bound and the roots wind around and grow inward, actually strangling the tree. Andrew Comiskey untangles the roots of our most complex relationships and plants us firmly in the cross.
That strength can be found in my weaknesses is something I have always known but never fully understood. Using his deep spiritual insights and his wonderful gifts as a writer, Comiskey has opened up my heart to the real meaning of this truth.