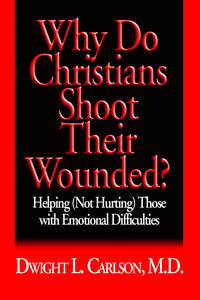 Why Do Christians Shoot Their Wounded?
Helping (Not Hurting) Those with Emotional Difficulties
Highlights
Offers libaration from guilt for those in emotional distress
Offers caregivers and counselors a new perspective on helping those who suffer from depression, anxiety, obsessiveness or other emotional pain
Shows that emotional hurts are often biologically based, not the result of sin or bad choices
Examines biblical teaching on emotional pain
Includes strong medical documentation
Gentle, encouraging approach
Accessible, nontechnical
Helpful charts and diagrams
Author's book Overcoming Hurts and Anger sold over 190,000 copies
Product Details
It's no sin to hurt.
Thousands of Christians suffer real emotional pain--such as depression, anxiety, obsessiveness. Many other Christians, including prominent leaders, believe emotional problems are the result of sin or bad choices. These attitudes often only add to the suffering of those who hurt.
In this book, Dwight Carlson marshals recent scientific evidence that demonstrates many emotional problems are just as physical or biological as diabetes, cancer and heart disease. While he never discounts personal responsibility, Carlson shows from both the Bible and up-to-date medicine why it really is no sin to hurt. Understandably and compellingly, Why Do Christians Shoot Their Wounded? brings profound help for those who hurt and those who counsel.
For those who suffer, here is a powerful liberation from guilt. For those who care for the suffering, here is vivid proof that those in emotional pain deserve compassion, not condemnation.
About the Author
Dwight L. Carlson, a physician and psychiatrist, lives and works in California. His many books include Living God's Will and Run and Not Be Weary.