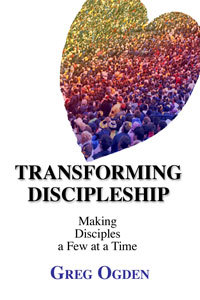 Transforming Discipleship
Making Disciples a Few at a Time
Highlights
A Bible-based vision for discipleship
Recovers Jesus' method of discipling a few at a time
Shows how discipleship can be a self-replicating process
Critiques how many churches currently do discipleship
Biblical foundation for the influential Discipleship Essentials
Gives practical, effective advice to church leaders
Product Details
Many churchgoers complain that their churches lack a coherent plan for discipleship and spiritual growth. In turn, many church leaders lament their lack of resources to build and manage effective programs to help people become fully devoted followers of Christ.
In Transforming Discipleship, Greg Ogden introduces his vision for discipleship, emphasizing that solutions will not be found in large-scale, finely-tuned, resource-heavy programs.
Instead, Ogden recovers Jesus' method of accomplishing life change by investing in just a few people at a time. And he shows how discipleship can become a self-replicating process with ongoing impact from generation to generation.
Biblical, practical and tremendously effective, Transforming Discipleship provides the insights and philosophy of ministry behind Ogden's earlier work, Discipleship Essentials. Together, these ground-breaking books have the potential to transform how your church transforms the lives of its people.
About the Author
Greg Ogden (D.Min., Fuller Theological Seminary) is executive pastor of discipleship at Christ Church of Oak Brook in Oak Brook, Illinois. Previously he was academic director of the doctor of ministry program and associate professor of lay equipping and discipleship at Fuller Theological Seminary in Pasadena, California. A pastor for 23 years with the Presbyterian Church, USA, he also served for nine years as senior pastor of Saratoga Federated Church in Saratoga, California. While there, he developed a discipleship program used by over 15,000 people and resulting in his book, Discipleship Essentials. Ogden has also written The New Reformation: Returning the Ministry to the People of God (Zondervan, rereleased in 2003 as Unfinished Business).
Endorsements
Greg Ogden shook up the world of many of us when he wrote the The New Reformation. Now he brings a similar urgency and clarity to the issue of following Christ. Read it at your own risk.