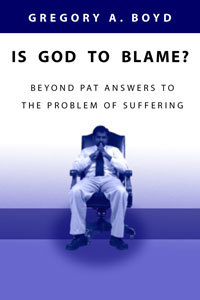 Is God to Blame?
Beyond Pat Answers to the Problem of Suffering
Highlights
A response to suffering that leads to deeper trust in and understanding of God
Focused from beginning to end on Jesus Christ
Easy-to-read
Caring and compassionate
Organized in a question-and-answer format
Informed by deep biblical and theological study
Product Details
Is God to blame?
This is often the question that comes to mind when we confront real suffering in our own lives or in the lives of those we love. Pastor Gregory A. Boyd helps us deal with this question honestly and biblically, while avoiding glib answers.
Writing for ordinary Christians, Boyd wrestles with a variety of answers that have been offered by theologians and pastors in the past. He finds that a fully Christian approach must keep the person and work of Jesus Christ at the very center of what we say about human suffering and God's place in it. Yet this is often just what is missing and what makes so much talk about the subject seem inadequate and at times even misleading.
What comes through in Is God to Blame? is a hopeful picture of a sovereign God who is relentlessly opposed to evil, who knows our sufferings and who can be trusted to bring us through them to renewed life.
About the Author Gregory A. Boyd (Ph.D., Princeton Theological Seminary) is a pastor at Woodland Hills Church in St. Paul, Minnesota. Previously, he was a professor of theology at Bethel University, also in St. Paul. His books include Recovering the Real Jesus in an Age of Revisionist Replies, Letters from a Skeptic, God of the Possible, Repenting of Religion, Seeing is Believing, Escaping the Matrix, The Jesus Legend, Myth of a Christian Nation, God at War and Satan and the Problem of Evil.
Endorsements
In this stimulating work, Gregory Boyd shows how an incarnational theology focuses on God's action in Jesus Christ as the source for our knowledge of God. In Jesus we see what God does for us, how God loves us, how God feels for us and how God rescues creatures and creation. This work restores an ancient view of Christianity that emphasizes the freedom we have to enter into a joyous relationship with God--a worldview of hope for all of humanity.
In this new book from the pen of pastor-theologian Greg Boyd, we discover an answer to one of life's most difficult questions: If God is good, why do bad things happen? Boyd advances a radical notion: human history is a battle between God and Satan. We are part of this struggle, and what the future holds is (in part) up to us. Things are not all fixed from eternity. Agree or disagree, Boyd makes Christian faith exciting. I recommend this book to thoughtful Christians everywhere.
Greg Boyd addresses what may be the single most asked question among skeptics and seekers. Many without Christ are still waiting for us to respond with an intelligent answer. Greg provides an apologetic that actually makes sense about an issue that really matters!
Boyd argues forcefully that, for Christians, the deepest revelation of God's character has to be the cross of Christ, where God's glory is revealed not as compelling power but as sacrificial love. . . . For Boyd, the mystery of suffering resides not in God's inscrutable will or a possible 'dark streak' in God's character, but in the complexity of a universe where freedom and risk are realities that even God must experience. Always compassionate, sometimes cantankerous, and capturing biblical concepts with memorable clarity, this challenging book should be a valued resource for pastors, counselors, support groups, and individual study.