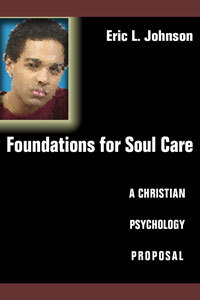 Foundations for Soul Care
A Christian Psychology Proposal
Highlights
Offers a comprehensive overview and critique of the existing paradigms for Christian psychology
Presents an alternative paradigm for Christian psychology grounded in biblical and historical theology
Highlights the significance of this paradigm for care of the whole person
Provides an excellent resource for students and practitioners of Christian psychology
Product Details
In this groundbreaking work of first-order scholarship, Eric Johnson makes a vital contribution to the field of Christian counseling. He first presents a detailed overview and appreciative but critical evaluation of the reigning paradigms in the field of Christian counseling, particularly biblical counseling and integration. Building on their respective strengths, he seeks to move beyond the current impasse in the field to develop a more unified and robustly Christian understanding. Drawing upon the the Bible and various Christian intellectual and soul-care traditions, and through a Christian reinterpretation of relevant modern psychological theory and research, Johnson offers a new, comprehensive framework for the care of souls that flows from a Christian understanding of human beings - what amounts to a distinctly Christian version of psychology. This book is a must-read for any serious Christian teacher, student, or practitioner in the fields of psychology or counseling.
About the Author
Eric L Johnson (B.Th., Toronto Baptist Seminary; M.A.C.S., Calvin College; M.A., Ph.D., Michigan State University) is currently the Lawrence and Charlotte Hoover Professor of Pastoral Care at The Southern Baptist Theological Seminary. Before teaching at SBTS, Dr. Johnson taught courses in psychology, theology, and Christian worldview at Northwestern College in Minnesota for nine years. He has contributed numerous articles to the field of Christian psychology arguing for the necessity of theology in counseling and psychological research. He is an associate editor of the Journal of Psychology and Theology, and, in 1998, he was editor for a special issue of the Journal of Psychology and Christianity entitled "Psychology within the Christian Tradition." He authored articles for the Baker Encyclopedia of Psychology and Counseling and has also co-edited and contributed to two books: Christianity and Psychology: Four Views and God Under Fire: Modern Scholarship Reinvents God.
Endorsements
Eric Johnson cuts through the underbrush of contemporary attempts to integrate psychology and theology to get to the root of a truly Christian psychology...This book should be at the top of the list as required reading for all who are preparing to be counselors and therapists as well as those already in practice.
Dr. Johnson's book paves new ground that will carry us toward a biblically congruent, spiritually clean and intellectually responsible understanding of people, our destiny and how to get there.
Eric Johnson's thought about Christian psychology is an improvement on just about everything in the field. Foundations for Soul Care will set the pace for discussions in the future.
Eric Johnson is resolutely fair-minded...He seeks accurate understanding and takes no shortcuts. He takes others seriously, even when he disagrees...Eric makes criticism easy to hear and makes vigorous argument in the pursuit of wisdom a delight!
Eric Johnson combines a strong interdisciplinary background with his vision for a renewed Christian psychology. The result is an analysis that is intellectually sophisticated, while fully respecting the authority of Scripture... and the tradition of Christian theologizing that springs forth.
This book constitutes a major breakthrough for those evangelical psychologists, counselors, pastors and therapists who worry about how to hold modern secular psychology together with their faith...In a discussion that is tempted either simply to cite Scripture or the elaborate endless methodological models, Johnson returns the healing of the soul to the center.
Eric Johnson's Foundations for Soul Care is an important book. Thorough, scholarly and provocative, this work calls us to reclaim the centrality of the Christian faith as we care for souls.