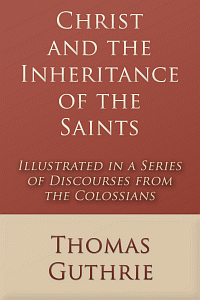 Christ and the Inheritance of the Saints
Illustrated in a Series of Discourses from the Colossians
Product Details
Full of poetic language, Guthrie's volume on the first chapter of Colossians uses stories and illustrations to draw out the meaning of the Scriptures. In Commenting and Commentaries, Spurgeon referred to this volume as, "a series of brilliant discourses." Here are a sampling of chapters included:
The Inheritance
The Power of Darkness
The Kingdom of Christ
The Translation
Redemption
The Image of God
The First-Born
The Fulness
About the Author
Thomas Guthrie (1803-1873) was a preacher, social reformer, and philanthropist. He was born in Brechin, studied in Edinburgh and Paris, and was licensed as a minister with the Church of Scotland. He served as a minister in Greyfriars, Edinburgh from 1837 until 1840. It was during this time that Guthrie became aware of the poverty, deprivation, and ignorance riddling the area surrounding his parish. He quickly became an advocate of free, compulsory education for all children and worked to promote temperance.
In 1843, Guthrie left the Church of Scotland to help establish the Free Church with Thomas Chalmers and Robert Candlish. Active in the leadership of the Free Church, he campaigned against those who would refuse Free Churches land, and he raised funds to assist Free Church clergy, who were kicked out of their homes following the Disruption. Guthrie wrote a handful of books over the course of his lifetime, including: The City: Its Sins and Sorrows, A Plea for Drunkards, The Gospel in Ezekiel, and Plea for Ragged Schools.